College Events and Conference Programs
Conference Services
For over 30 years, Utica College has helped many diverse organizations meet their conference and meeting needs. Utica College is large enough to offer you the facilities you need, yet small enough to give you the personal attention you deserve.
Our experience has taught us that when planning your program - be it conference, camp, meeting, seminar, or special event - professional service, facilities, location, and cost all contribute to your program's success.
Utica College offers you
Conference and meeting facilities, accommodating groups of 10 to 1,500
Professional meeting planning services
Comfortable accommodations ranging from traditional residence hall style rooms to suites (June - August)
Exceptional dining choices-from "fast food" to "black tie"
Complete media services with on-site technical support
One-stop shopping-let us handle all the details
Professional staff to work with your group throughout your stay at UC
Easily-accessible, picturesque campus located in central New York
Professional Service
Facilities
Location
Cost and Complete Meeting Packages
Contact Us or Arrange a Campus Tour
---
About Us
College Events and Conference Services
---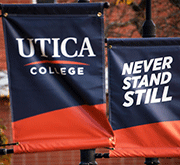 Office Location:
273 Gordon Science Center
View campus map →
Office Hours:
Monday – Friday
8:30 a.m. – 5:00 p.m.
8:30 a.m. – 4:30 p.m. (summer hours)
Meet our Staff:

Joni L. Pulliam, M.S.
Executive Director
Corporate Programs and Conference/Meeting Services
(315) 792-3344
jpulliam@utica.edu
Debra A. McQueary, A.A.S.

Coordinator for Conference and Meeting Services
(315) 792-3344
dmcqueary@utica.edu