College Events and Conference Programs
College Events and Conference Programs


Welcome!
A Message from the Executive Director
Thank you for your interest in College Events and Conference Programs at Utica College! We hope you find our Web site helpful in acquainting you with our programs and in answering your questions.
Continuing professional education seminars … summer youth camps … special events … conferences … corporate training programs … these are just a few examples of the many programs that we offer and host each year. We work with the UC campus community, as well as with external organizations in developing and coordinating a variety of programs. All of our programs share an educational focus and a commitment to lifelong learning.
In 2006, Utica College's Office of College Events and Conference Programs was one of a select group of colleges to receive initial certification by the Association of Collegiate Conference and Events Directors-International.
Whether you're looking to fulfill continuing professional education requirements or are interested in utilizing Utica College's campus for an upcoming conference, I encourage you to contact us.
We look forward to hearing from you and hope that you'll have an opportunity to visit Utica College in the near future!
Sincerely,
Joni L. Pulliam, Executive Director

Corporate Programs and Conference/Meeting Services

ACCED-I One-Stop-Shop certification
assures clients that Utica College meets or exceeds the collegiate industry's standards for conference and meeting services. Further, we can provide our clients with one point of contact for all services, one all-encompassing contract, and one itemized invoice.
---
About Us
College Events and Conference Services
---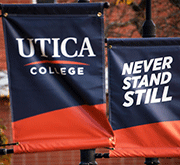 Office Location:
273 Gordon Science Center
View campus map →
Office Hours:
Monday – Friday
8:30 a.m. – 5:00 p.m.
8:30 a.m. – 4:30 p.m. (summer hours)
Meet our Staff:

Joni L. Pulliam, M.S.
Executive Director
Corporate Programs and Conference/Meeting Services
(315) 792-3344
jpulliam@utica.edu
Debra A. McQueary, A.A.S.

Coordinator for Conference and Meeting Services
(315) 792-3344
dmcqueary@utica.edu