Current Students

Web resources for international students
Vital links
Find links to important resources for UC students, including forms, documents, schedules, and Web interfaces.
Go >
Answers

For information, counseling resources, documentation, and personal assistance of any kind, contact UC's Office of International Education at (315) 792-3082 or visit us in room 207 of DePerno Hall.
Click here for more information about
International Student Services >
You can also e-mail your international student adviser at
lworth@utica.edu
Research help
Get one-on-one assistance, answers by email, or browse through our interactive research tutorial.
Go >
UC Bookstore
Get information about hours, sale items, or purchase books and accessories online.
Go >

Questions?

Contact the Office of International Programs at (315) 792-3082 for more information.
---
Useful Links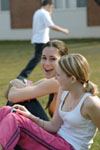 Click below for:
> The UC Daysheet
> Online fee payment
How do I ...

> Get my grades
> Use my UC e-mail
> Get my transcript
> Evaluate my courses