Student Activities
Treasurer
Name:
Danielle Thomas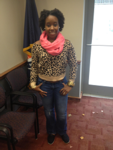 Class Year:
2015
---
Treasury Responsibilities:

Maintain all financial records and accounts.
Present all proposals requesting funds from other organizations on campus.
Be present at all fundraising events.
Present a financial report at every RHA meeting.
Devise a yearly budget of expenses.
Have one vote in all matters.