Student Activities
Lambda Pi Eta
Lambda Pi Eta is the official communication studies honor society of the National Communication Association. An accredited member of the Association of College Honor Societies, Lambda Pi Eta has nearly 420 active chapters at colleges and universities worldwide. The chapter at Utica College was founded in 2004. The UC chapter is named Pi Omicron.
The Greek letters chosen for Lambda Pi Eta (LPH)represent the first letters of the words Logos-logic, Pathos-passion, and Ethos-ethics. These three characteristics are fundamental to persuasion, according to one of the founding fathers of rhetoric, Aristotle. The crest for Lambda Pi Eta includes the guiding phrase 'Logic Emotion Character and Ethics'.
Our group is recognized by the college and the student senate. We hold monthly meetings to plan and prepare for events we sponsor. These events include the Banned Books Read-in, Open House for prospective students, the Majors Fair, and study sessions to help students prepare for their Comm Arts finals. We are currently seeking opportunities to expand our community service at and beyond the UC campus.
On a wider scale, we work to stimulate interest in the field of communication, promote and encourage professional development among communication majors and explore options for graduate education in communication studies.
See anyone of the members, past and present, or talk to any of our Comm Arts professors: Dr. Carol Downing, Dr. David Habbel, and Dr. Jeffery Miller. Dr. Downing is our advisor, and can be reached at cdowning@utica.edu, 792-3155, or visit her at FC 213. You can also find information at the National Communication Association website, www.natcom.org, under Student Organizations. Anyone with a declared Comm Arts major or minor and meeting these criteria: GPA of 3.25 in Comm Arts classes and 3.0 Cumulative GPA, a Junior with 60 credits completed of which 12 credits must be Comm Arts classes.
There is a one-time fee of $30.00 to cover the cost of membership and a one-time fee of $8.00 for the honor cords to wear at graduation.
Acceptance into a national honor society distinguishes you as exceptional in comparison to the student body population. As a member, you are eligible to attend the national conferences and network with fellow students and professional in the Communication field.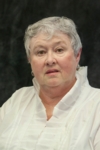 Carol A. Downing
, Ph.D.
Assistant Professor of Communication
Phone: (315) 792-3155
Office: 214 Faculty Center
Dr. Carol Downing has been teaching at Utica College since 1985. She has been the Chair of the Department of Communication Arts since 2005.
...More About Carol A. Downing
---
David M. Habbel
, Ph.D.
Associate Professor of Communication
Phone: (315) 792-3152
Office: 215 Faculty Center
Dr. Habbel's areas of teaching and research include Interpersonal, Organizational, Political and Intercultural Communication, and Communication Theory. He has served as Chair of the Curriculum Committee, Chair of the Syracuse University Senate Committee on Diversity, and the Presiding Officer of the UC Faculty Senate. Dr. Habbel continues to be involved with diversity issues on the UC campus.
...More About David M. Habbel
---
Jeffrey (Jeff) A. Miller
, Ph.D.
Associate Professor of Communication
Phone: (315) 792-3086
Office: 309 Romano Hall
Dr. Jeff Miller is Associate Professor of Communication and a Fulbright Scholar (2007, Taiwan) whose teaching and research focuses on the connections between forms of communication (mass media and journalism, public speech, community organizing), democratic participation, and social justice. Dr. Miller has presented his research at regional, national, and international conferences, including recent conferences in Stockholm, London, and Krakow. He also serves as director of FILM@UC, programming and hosting the campus film series for over fifteen years, and was faculty adviser to WPNR FM from 1998-2006.
...More About Jeffrey A. Miller
Sports Rosters
Please click on the team you are interested in to view the roster.
Fall Sports
Women's Cross Country
Men's Cross Country
Women's Field Hockey
Men's Football
Coed Golf
Men's JV Football
Women's Soccer
Men's Soccer
Women's Tennis
Women's Volleyball
Winter Sports
Women's Basketball
Men's Basketball
Women's Ice Hockey
Men's Ice Hockey
Women's Swimming and Diving
Men's Swimming and Diving
Women's Track and Field
Men's Track and Field
Spring Sports
Men's Baseball
Coed Golf
Women's Lacrosse
Men's Lacrosse
Women's Softball
Men's Tennis
Women's Track and Field
Men's Track and Field
Women's Water Polo