Student Activities


Lambda Sigma Upsilon Latino Fraternity Incorporated
ΛΣΥ
20 Latino men founded Lambda Sigma Upsilon Latino Fraternity on April 5th, 1979. As we approach our 30th year, Lambda Sigma Upsilon continues to make significant strides to better uplift young men of all cultures, the campus community, and the community-at-large. Currently Lambda Sigma Upsilon is comprised of 46 chapters across the United States. We are the fastest growing Latino Fraternity, recently opening 11 new chapters within the last two years.
Our founders were men who believed that the minority population at colleges and universities were not getting the attention they so desperately needed to advance their academic successes. With this notion, they created Lambda Sigma Upsilon to act as a support group for minorities, as well as provide a family away from home. As proof to this, our founders developed 4 Goals that would embody the purpose of Lambda Sigma Upsilon. These Goals are:
1. Academic excellence - Ensuring that our brothers earn their degree is a main focus within Lambda Sigma Upsilon. We believe that our brothers will go beyond the extra mile to ensure that all academic goals are achieved.
2. Cultural awareness and diversity - Lambda Sigma Upsilon maintains a strong emphasis on cultural awareness. We do not go by a typical "Greek" system (Alpha, Beta, etc.); rather we let each new chapter create its own identity, ensuring that their legacy is passed down. The diversity of the fraternity is very evident amongst our brotherhood. Over 40 countries are represented in Lambda Sigma Upsilon, thus making LSU one of the most diverse fraternities in the country.
3. Brotherhood - LSU prides itself on its unique and diverse brotherhood. Brotherhood provides not only a group of individuals a sense of family away from home; it helps individuals gain a new perspective on college life. Brotherhood also provides various networking opportunities with individuals who share common interests.
4. Being role models to the community - Lambda Sigma Upsilon is well known for its service to the campus community and the community-at-large. Various projects include a charity basketball game vs. the New York Giants and Jersey City Police Department, AIDS Walk NY and NJ, NetAid Global Campaign for Education, and the American Red Cross Remembers September 11th Campaign.



Since our inception, Lambda Sigma Upsilon Latino Fraternity, Inc. has embraced the traditional art of stepping. Derived from the indigenous roots embedded within our Latino heritage, stepping has become a creative and unique form of artistic and musical entertainment, and a tradition the Brothers of Lambda Sigma Upsilon value and honor. Lambda Sigma Upsilon was the first Latino fraternity to step or stroll. Stepping provides students, parents, faculty members, college/university officials, and the public a forum to better understand the unique history and traditions of our culturally rooted Brotherhood. Throughout the years, Brothers have performed shows at numerous colleges and universities. Here is a demonstration of stepping and strolling.
www.youtube.com/watch


NEED MORE INFO?


lsu79.org/index_shield.html
---
Lambda Sigma Upsilon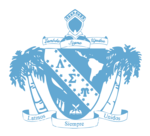 Chapter Facts:

Date Founded
National: April 5th, 1979
Chapter: April 18th, 2009
Colors
Baby Blue and White
Philanthropy
HIV and AIDS Awareness
Motto
"Latino Siempre Unides."
Mascot
Taino Indian
Type
National Social and Service Fraternity
Other
Tradition of Stepping