Greek Facts:
Students with membership in a fraternity or sorority are more likely to complete college.
College graduates who were members of a fraternity or sorority tend to be more financially successful than those graduates not in Greek organizations.


Colleges receive more donations - and in greater amounts - from sorority and fraternity alumni.


Sorority and fraternity members participate in more campus activities and in more community service after college than others.


The first fraternity was founded in 1825 at Union College, Schenectady, NY.


The first sorority was founded in 1851 at Wesleyan College, Macon, GA.


Seventeen of the last twenty-five US Presidents have been members of fraternities.


Both female members of the US Supreme Court are members of sororities. Greeks, nationally, complete over 10 million hours of volunteer service annually.



---








Chi Beta Sigma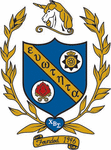 Lambda Sigma Upsilon
Omega Phi Beta

Phi Beta Sigma


Sigma Iota Alpha
Theta Phi Alpha