Starting A New Club or Organization


*New Greek Organizations must contact Fran Lucia at ext. 3037*
All student groups at Utica College are organized and operated by our students; therefore, the level of activity varies from year to year based on student interest and participation. Establishing a new student organization on the Utica College campus is a relatively simple procedure. The organizers' first stop should be a visit with Student Activities or a Student Senate Representative, who will interpret the information described below and help get the club started.
To see a full copy of the Recognition Committee Bylaws,
Please click HERE.

The following steps to recognition have been taken from
Rule 102
of the Bylaws of the Recognition Committee:
General Criteria:
1) The organization must have at least five members in good academic standing.
2) The organization must have a President, Vice president, Secretary, Tresurer and Webmaster. The organization may use different names for the before mentioned positions, so long as they have equivalent responsibilities.
3) The organization must have an advisor who is a Utica College faculty or staff member.
4) The organization must have a Constitution that meets the constitutional criteria listed in these bylaws.
Pioneer Place:
Applicants shall apply online at Pioneer Place to begin the recognition process; the Recognitions Committee shall screen and approve all changes to the online application in a timely manner.
Constitutional Criteria:

Student Organizations shall be required to create their constitutions in such a way, that they are in accordance to guidelines established by the Recognitions Committee.
Presentation to the Committee
:
Once all general and constitutional criteria is fulfilled, the Student Organization will be contacted by the Recognitions Committee; the committee shall invite the organization to present its proposal for recognition, so that the committee may ensure that the organization has met all of the before mentioned criteria; if an organization has met the criteria, the Recognitions Committee shall vote to determine if the proposal is ready to be heard by the Legislative Assembly.
Presentation to the Legislative Assembly:
If the Recognitions Committee determines that the proposal is ready, the Student Organization shall then be required to present a second proposal for recognition to the Legislative Assembly; the Student Organization will be given a date to attend the next meeting of the Legislative Assembly, where their proposal will be approved or denied. If approved, the Student Organization shall be formally recognized and eligible for funding from the Student Senate.
All recognized organizations must submit a revised Constitution to the Senate every year via re-registration on Pioneer Place. All recognized organizations must identify one fiscal representative in order to receive funding.
Before You Apply:

You MUST have ready:
The names and e-mail addresses of all members.
The name, position, department, e-mail address and phone number of a faculty or staff member who has already agreed to be your club advisor.
An electronic copy of your current constitution able to be uploaded to this page.
A photo or image that represents your organization in some way.

Perks of Being a Recognized Club or Organization on Campus
Student Senate funding

Portal on Pioneer Place

Participation in the Club & Org Fair

Hosting Events

Reserving rooms

Posting fliers

Org mailbox

On-campus fund raising

Assistance in finding resources
How to Create a Student Club or Organization
If you would like to create your own club, please see the following documents:
Below is a general outline for a student organization constitution:
Article I- Name of Organization
Article II– Purpose of Organization
Article III- Membership Practice
Article IV- Officers and Their Duties
Article V– Elections
Article VI– Committees
Article VII– Meetings
Article VIII– Financial Records
Article IX– Advisors
Article X- Amendments

For more information on existing student clubs and organizations at Utica College, please contact the Office of Student Activities at (315) 792-3037.
---
Student Activities
Office Hours
SCHOOL YEAR HOURS
Monday - Friday

8:30am to 5:00pm

Saturday - Sunday

CLOSED
SUMMER HOURS
Monday - Friday

8:30am to 4:30pm

Saturday - Sunday

CLOSED

STREBEL STUDENT CENTER

24 hours, 7 days
SafeZone Program:
The Gay Alliance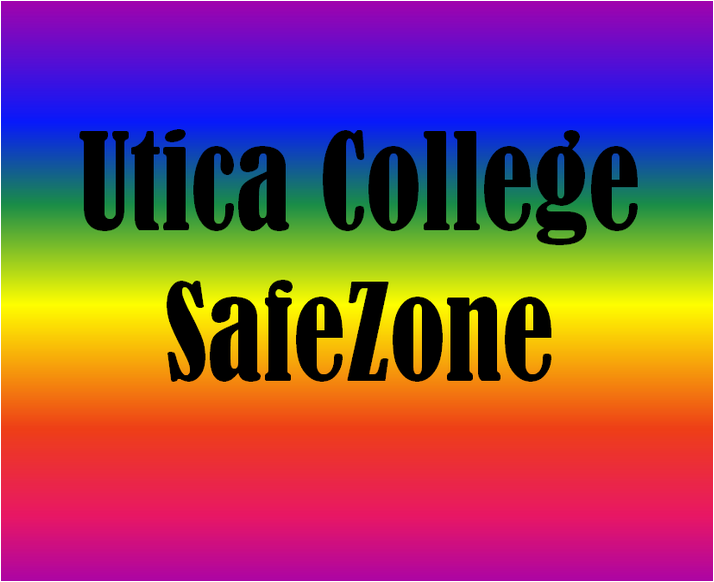 Adapted from www.GayAlliance.org
The SafeZone program was created to develop, enhance and maintain environments in workplaces, schools and other social settings that are culturally competent and supportive to LGBTQ (lesbian, gay, bisexual, transgender and queer/questioning) individuals, as well as straight, cisgender people who care about diversity, equality and inclusion.


What is a SafeZone?
A safe zone or a safe space is a place where all people feel welcome and safe. It may be a room, a car, or an entire college campus. The Gay Alliance SafeZone program aims to increase the awareness, knowledge, and skills for individuals and address the challenges that exist when one wants to advocate for their LGBTQ peers, family members, friends and co-workers. Creating safe zones or safe spaces is a proactive step that schools, agencies and corporations can take to create welcoming, inclusive spaces so that all people are empowered to reach their full potential.

Sponsored by the Diversity Committee
Contact Marissa Finch
mmfinch@utica.edu
or Fran Lucia
flucia@utica.edu
for more information or how to become SafeZone Certified
Student Activities Facebook