Leaders Around Campus
Joe Gutowski- Director of Student Activities and Strebel Student Center
Student Senate Advisor

jogutows@utica.edu

x3036

Bethany VanBenschoten- Assistant Director of Student Activities and Leadership
UCPB Advisor

NSLS Advisor

bavanben@utica.edu

x5294

Fran Lucia- Coordinator of Student Activities for Events & Services
Greek Life Advisor

flucia@utica.edu

x3037

Campus Safety
Wayne Sulivan

Strebel, x3046

Problems, theft, security

Sodexo Dining Services
Damian Boehlert

Inside Dining Hall in Strebel, x3178

Catering, snacks, drinks

Facilities Management

Rich Kennedy

x3191

Work orders, requesting set-ups

Copy Center
Lisa Mudrie- Rabideau

185 Gordon Science Center, x3145

Color flier printing




Athletics
Jim Murnane

Clark Athletic Center, x3281

Use of fields, events with teams

Media Center
Dan Sloan

L131 Gannett Library, x3282

Requesting laptops, smart carts, microphones, podiums, speakers, projectors, etc.
---
Office Hours

SCHOOL YEAR:


Monday - Friday
8:30am to 5:00pm

Saturday - Sunday
CLOSED


SUMMER:


Monday - Friday
8:30am to 4:30pm

Saturday - Sunday
CLOSED


STREBEL STUDENT CENTER

24 hours, 7 days

SafeZone Program:
The Gay Alliance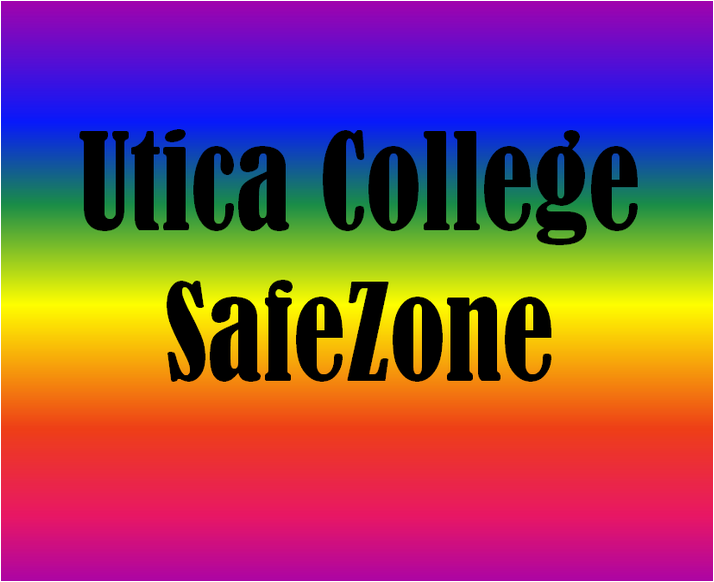 Adapted from www.GayAlliance.org
The SafeZone program was created to develop, enhance and maintain environments in workplaces, schools and other social settings that are culturally competent and supportive to LGBTQ (lesbian, gay, bisexual, transgender and queer/questioning) individuals, as well as straight, cisgender people who care about diversity, equality and inclusion.


What is a SafeZone?
A safe zone or a safe space is a place where all people feel welcome and safe. It may be a room, a car, or an entire college campus. The Gay Alliance SafeZone program aims to increase the awareness, knowledge, and skills for individuals and address the challenges that exist when one wants to advocate for their LGBTQ peers, family members, friends and co-workers. Creating safe zones or safe spaces is a proactive step that schools, agencies and corporations can take to create welcoming, inclusive spaces so that all people are empowered to reach their full potential.

Sponsored by the Diversity Committee
Contact Marissa Finch
mmfinch@utica.edu
or Fran Lucia
flucia@utica.edu
for more information or how to become SafeZone Certified
Student Activities Facebook