Professional Staff
---
UC NEWS
UC Presents "Taste of the Arts" 2014
Music, Creative Writing, Dance, Visual Art and Chemistry Dessert Bar
Written By Colleen Bierstine '15, PR Intern
Event is free and open to everyone
---
Contact
cleogrande@utica.edu
Utica, NY (04/15/2014)
- Utica College will offer a jam-packed hour of music, talent, food, science and more in the second annual Taste of the Arts on Wednesday, April 16.
Taste of the Arts is a fast-paced showcase embracing student talent, the UC community, local cuisine and diversity. It will feature music, reading, drama, dance and favorite local foods. There will be various interactive booths for active student organizations and UC artists.
The UC Chemistry Club will host an enticing and informative dessert bar sampler, including liquid nitrogen ice cream, flavored marshmallows and fruit "caviar" toppings (both made on-site and derived from pure flavor emulsions). They will also offer three kinds of hot chocolate sauce and explain why different ingredients create different flow rates.
Performers include the UC Choir, UC Band Saxophone Quartet, UC String Quartet, UC senior and dancer Natalie Hurly '14, Harold Frederic English Society and more.
The event is free and open to the public. It will take place in the Ellen Knower Clarke Lounge in the Strebel Student Center from 12:30 to 1:30 p.m.
For more information, contact Daniel Hapanowicz from the School of Arts and Sciences at dmhapano@utica.edu.
About Utica College – Utica College, founded in 1946, is a comprehensive private institution offering bachelor's, master's, and doctoral degrees. The College, located in upstate central New York, approximately 90 miles west of Albany and 50 miles east of Syracuse, currently enrolls over 4,000 students in 36 undergraduate majors, 27 minors, 21 graduate, pre-professional and special programs.
---

WORKING @ UC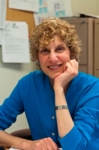 Camille Sciortino
Coordinator, Corporate & Foundation Partnerships