Professional Staff
---
UC NEWS
Barrett Gallery to Showcase Historic Women Illustrators
Works from Golden Age of Illustration, 1880-1920
Written By Victoria Lamanna '15, PR Intern
Collectors' reception slated for Feb. 1
---
Contact
Christine Leogrande, cleogrande@utica.edu
Utica, NY (01/21/2014)
- Utica College's Edith Langley Barrett Fine Art Gallery will showcase the works of ten women illustrators Monday, Jan. 27 through Friday, Feb. 21. A collectors' reception will be held on Saturday, Feb. 1 from 5 to 7 p.m.
The exhibit, "Women Illustrators in the Golden Age of Illustration 1880-1920," presented by the Jay Williams American Print Collection of Clinton, N.Y., is a collection of original publication prints from illustrators Anna Whelan Betts, Maginel Wright Enwright, Mary Hallock Foote, Elizabeth Shippen Green, Violet Oakley, Mary Wilson Preston, Florence Scovel Shinn, Jesse Willcox Smith, Alice Barber Stephens and Sarah Stillwell Weber.
These women were seen to be the best in their industry during a time when fine art and commercial art coincided. Illustrations created in traditional mediums such as paint, drawing or watercolor, were mass-printed in books, magazines, newspapers and other publications for fashion, pop culture and other industries.
The Edith Langley Barrett Fine Art Gallery, located on the lower level of Gannett Library, will be open Monday through Friday from 1 to 5 p.m. and Saturday from noon to 3 p.m. The gallery is free and open to the public.
For more information about this event, or other exhibits hosted by the gallery, visit utica.edu/gallery.
About Utica College – Utica College, founded in 1946, is a comprehensive private institution offering bachelors, masters and doctoral degrees. The College, located in upstate central New York, approximately 90 miles west of Albany and 50 miles east of Syracuse, currently enrolls over 4,000 students in 36 undergraduate majors, 27 minors, 21 graduate programs and a number of pre-professional and special programs.
---

WORKING @ UC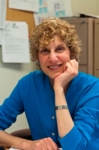 Camille Sciortino
Coordinator, Corporate & Foundation Partnerships