Professional Staff
---
UC NEWS
Film@UC Presents Reinvented Romantic Drama
Vic + Flo Saw A Bear
Written By Victoria Lamanna '15, PR Intern
Film kicks off spring semester cultural events
---
Contact
Christine Leogrande, cleogrande@utica.edu
Utica, NY (01/20/2014)
- Utica College's Cultural Events Series kicks off the spring semester on Thursday, Jan. 23 with Film@UC's showing of "Vic + Flo Saw A Bear."
The 2013 Canadian film, directed by Denis Cote, follows the story of Victoria, an ex-con who is newly released from jail and is trying to start over. While residing at her paralyzed uncle's home in rural Quebec, Victoria faces her past as her former cellmate and younger lover, Florence, pays her a visit.
This film is free and open to the public, and will be shown in the Macfarlane Auditorium in the college's DePerno Hall at 7 p.m. For more information, call (315) 792-3047 or visit utica.edu/culture.
About Utica College – Utica College, founded in 1946, is a comprehensive private institution offering bachelor's, master's, and doctoral degrees. The College, located in upstate central New York, approximately 90 miles west of Albany and 50 miles east of Syracuse, currently enrolls over 4,000 students in 36 undergraduate majors, 27 minors, 21 graduate programs and a number of pre-professional and special programs.
---

WORKING @ UC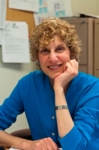 Camille Sciortino
Coordinator, Corporate & Foundation Partnerships