Professional Staff
---
UC NEWS
UC to Host Free FAFSA Workshop
Parent, Students Invited to Learn More About Nationally-Used Form
Written By Victoria Lamanna '15, PR Intern
Tips to make filling out form easier
---
Contact
cleogrande@utica.edu
Utica, NY (01/07/2014)
- On Saturday, Jan. 11, Utica College will host a free FAFSA (Free Application for Federal Student Aid) workshop from 10 a.m. to 12 noon, to assist students and their parents in filling out the FAFSA form.
The FAFSA is used nationwide by colleges to determine a student's eligibility for financial aid, including federal and state aid, as well as grants, loans and work-study programs.
At the workshop, UC's Student Financial Services office will go through the FAFSA line by line and answer any questions about the form and the application process. The workshop will take place in the Economic Crime, Justice Studies and Cybersecurity Building. This event is free and open to the public.
For more information about this event, contact Student Financial Services at (315) 792-3179.
About Utica College – Utica College, founded in 1946, is a comprehensive private institution offering bachelor's, master's, and doctoral degrees. The College, located in upstate central New York, approximately 90 miles west of Albany and 50 miles east of Syracuse, currently enrolls over 4,000 students in 36 undergraduate majors, 27 minors, 21 graduate programs and a number of pre-professional and special programs.
---

WORKING @ UC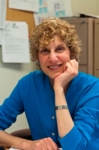 Camille Sciortino
Coordinator, Corporate & Foundation Partnerships