Professional Staff
---
UC NEWS
UC Joins Faxton-St. Luke's, Burrstone Energy for Co-Gen Plant
Construction to Begin Next Month
Written By Christine Leogrande
UC has joined forces with Faxton-St. Luke's Healthcare and Burrstone Energy Center to build co-gen plant
---
Contact
cleogrande@utica.edu
Utica, NY (11/07/2007)
- Faxton-St. Luke's Healthcare, Utica College, and Burrstone Energy Center, LLC, were awarded $1 million in funding by the New York State Energy Research and Development Authority (NYSERDA) to help construct a $13 million, 3.5-megawatt Combined Heat and Power (CHP) co-generation facility located at the St. Luke's Campus of Faxton-St. Luke's Healthcare.
The CHP co-generation facility will help reduce greenhouse gas emissions, provide more reliable services for hospital patients and college students, and significantly reduce the demand each institution places on the local utility grid. This co-generation plant will allow the hospital and college to serve as shelters during times of power outages, whether resulting from natural or man-made events. Groundbreaking for the plant took place Nov. 6 on its future site near the energy center at the St. Luke's Campus. The CHP co-generation facility will be owned and operated by Burrstone Energy Center, LLC.
NYSERDA's distributed generation and combined heat and power program has helped support approximately 100 projects. NYSERDA's investment of $53 million in funding has been leveraged with $262 million in co-funding, bringing the total investment to $315 million. This program supports projects that are expected to result in direct energy, environmental, and economic benefits such as peak electric demand reduction, improved fuel-use efficiency, emissions reduction, lower energy costs, and job creation.
"Combined heat and power systems are proving to be an important component in meeting New York's energy demands. Co-generation systems maximize the efficient use of our limited fossil fuel resources, increase the reliability of electricity, and reduce peak load demand," said Paul D. Tonko, president and CEO of NYSERDA. "This technology will aid in reaching Governor Spitzer's goal to reduce energy use 15 percent by 2015 and is an effective, environmentally sound solution to high energy bills. Both Faxton-St. Luke's Healthcare and Utica College will realize these benefits."
"We are pleased to have the opportunity to partner with Faxton-St. Luke's Healthcare and Utica College to develop and operate a 3.5 megawatt co-generation facility at the St. Luke's Campus," said John Moynihan of Burrstone Energy Center, LLC, in Latham, NY. "We will be providing a reliable and environmentally friendly source of electricity and heat that will meet the majority of the facilities' energy needs. We will install several gas-fired Cummins engine generators that operate at more than 80% efficiency, which is well over 200% more efficient than electricity generated from central power plants."
"For the past several years we have evaluated the concept of on-site co-generation," noted Steven J. Brown, vice president, clinical operations of Faxton-St. Luke's Healthcare. "With the de-regulation of the electrical industry and the opportunity to apply for a state grant, pursuing the development of a new plant was very favorable. Burrstone Energy Center has worked with our staff and the staff of Utica College to design a system that will meet the combined energy requirements of our two institutions at an efficiency level that is much higher than either of us could achieve on our own, all while reducing greenhouse gas emissions to the environment."
Utica College President Todd S. Hutton commented, "The benefits of this partnership with Faxton-St. Luke's Healthcare and Burrstone Energy Center are enormous. The concept behind distributed power generation projects like this one fits within our tradition of partnering with local businesses and institutions. This joint venture will also help us ensure that our resources are being used in the most efficient manner."
The CHP co-generation facility consists of multiple natural gas reciprocating engines fueled by natural gas. Electrical power will be distributed and sold to the St. Luke's Campus main building, St. Luke's Home, and Utica College. Thermal energy will be distributed and sold to St. Luke's Hospital in the form of 100-psi steam and hot water.
While the energy cost reduction to the college will be significant, said R. Barry White, vice president for finance and treasurer of the college, the most important benefit will be the ability to make more reliable, cleaner energy for students and the campus community.
For Faxton-St. Luke's Healthcare, the new plant would produce minimum annual savings of $350,000 through low-cost electricity and waste heat recovery energy. In addition the plant is designed to allow for the sale of excess electricity to the power grid making it available for other consumers. The ability to sell additional electricity could provide additional savings in the future.
Construction is anticipated to begin in December 2007 and it will take up to 10 months for the project to be completed.
# # #
---

WORKING @ UC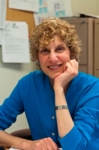 Camille Sciortino
Coordinator, Corporate & Foundation Partnerships