UC Dedicates Connie Gaetano Plaza
Stadium Additions Named in Philanthropist's Memory
Written By Colleen Bierstine '15, PR Intern
Dedication ceremony held before Pioneer football game
---
Contact
cleogrande@utica.edu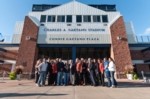 Utica, NY (10/01/2012)
- Before the football game at Utica College recently, a crowd gathered at the Charles A. Gaetano Atheletic Stadium for the dedication of the new Connie Gaetano Plaza. The plaza was built in memory of humanitarian and civic contributor Connie Gaetano.
She was remembered as an incredibly giving spirit, a philanthropist, a generous contributor to the community and a family matriarch. Her husband Charlie Gaetano and children Bill, Brian, Chuck, Colleen, Mary and Gregory Gaetano were all a part of the Saturday ceremony to commemorate the extraordinary woman that Connie Gaetano was.
The renovations to the stadium included adding a comfort station, with new restrooms.
---
Fast Facts
Founded in 1946, UC is a comprehensive institution that offers bachelor's, master's and doctoral degrees.
UC enrolls 3,089 full- and part-time undergraduate students, and 1,366 full- and part-time graduate students.
The College offers 37 undergraduate degrees in more than 60 areas of study.
The College offers 21 graduate programs, including master's degrees, doctoral programs, and graduate-level certificates. Options include:
business administration
cybersecurity - intelligence and forensics
economic crime management
education
health care administration
liberal studies
occupational therapy
physical therapy