04/23/2015
New Hartford Senior Wins Regional Science Fair
Desai Takes Top Honors Two Years Running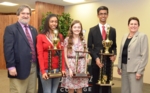 Local budding scientists competed in 37th Annual Regional Science Fair
...More
04/23/2015
UC Students Present on History of Mohawk Valley
Focus on Area's Role in Uniting American Frontier
16th annual symposium open to everyone
...More
04/21/2015
UC Center Presents "Civil Society and the City"
Talk Held at The Other Side, Utica
SUNY Oneonta Professors to Speak
...More
04/20/2015
UC Grad, Georgetown Ph.D. Candidate to Give Lecture on DNA
Asa Gray Concludes with DeVito Lecture on Genetics
UC Alum is now doctoral candidate in tumor biology training program
...More
04/20/2015
Award-Winning Novelist to Read at UC
Daniel Asa Rose to Read From Latest Book
Rose to read from dark comedy
...More
04/15/2015
Utica College Students to Host Campus's First Relay For Life
UC Community Coming Together to Finish the Fight
Several hundred expected to participate in cancer fundraiser
...More
04/07/2015
Nassar Poetry Prize Winner to Read at UC
Cleary's Collection Honored as Best in Upstate NY
Poet's book to be sold at the reading
...More
03/31/2015
Center for Small Cities to Explore How History Can Impact Future
Center for Small Cities, Rural Studies to Present Talk at The Other Side
How can the rich past of Utica help to shape its future?
...More
03/26/2015
Accepted Students Welcomed to Campus
More Than 200 Expected to Attend
Students, families to learn about offerings, campus life
...More
03/26/2015
X Ambassadors, Royal Tongues to Perform at UC
UCPB Brings National Acts to Campus April 25
Groups to headline annual Moose Madness celebration
...More
Fast Facts
Founded in 1946, UC is a comprehensive institution that offers bachelor's, master's and doctoral degrees.
UC enrolls 2,881 full- and part-time undergraduate students, and 1,147 full- and part-time graduate students.
The College offers 36 undergraduate degrees in more than 60 areas of study.
The College offers 21 graduate programs, including master's degrees, doctoral programs, and graduate-level certificates. Options include:
business administration
cybersecurity - intelligence and forensics
economic crime management
education
health care administration
liberal studies
occupational therapy
physical therapy

Share
|