Alumni News
Alumni Relations


News stories
These are some current news items of interest to UC alumni:
UC's MBA in Professional Accounting to Hit the Ground This Fall
Need for Professional Accountants Growing
Written By Abby Hansen '13, PR Intern
Accounting considered the language of business; job outlook favorable
---
Contact
cleogrande@utica.edu
Utica, NY (01/30/2013)
- Beginning this fall, Utica College will offer an on-campus Master of Business Administration (MBA) in Professional Accountancy, designed for students who are majoring in accounting or business with a concentration in accounting.
While accounting has long been considered the language of business, the need for professional accountants is growing. In an increasingly complex and competitive business environment, trends such as increased government regulation, changing tax laws and the globalization of business contribute to the demand for professional accountants.
In fact, the U.S. Bureau of Labor Statistics predicts a healthy job outlook for accountants, particularly those with advanced degrees. CNN Money calls for a 22 percent 10-year growth rate in the profession. In New York State, professional accountants earn approximately $85,230, which is above the national average, according to education-portal.com.
The UC graduate program will comply with the New York statutory 150-hour educational requirement which will allow students to be eligible to take the Certified Public Accountant (CPA) exam.
Atasi Basu, Ph.D., associate professor and chair of accounting, said this program will incorporate accounting courses as well as management courses to best prepare students for a variety of careers in accounting.
Bruce Caster, Ph.D., associate professor of accounting, said the new program represents a change from distance learning to on-campus learning as a result of student demand and interest in the program. "Feedback from our students indicated that they would prefer this program to be on campus," Caster said. "This program will also provide incoming freshmen with a coherent five-year path to fulfill the 150-hour requirement."
The program will offer internships and field experience for students. Basu and Caster said they are accepting applications at this time and are excited for the launch this fall.
For more information, visit
www.utica.edu/academic/ssm/accounting/mba/index.cfm
or contact John Rowe, director of graduate admissions, at 315-792-3010 or
jrowe@utica.edu
.
About Utica College- Utica College, founded in 1946, is a comprehensive private institution offering bachelors, masters and doctoral degrees. The College, located in upstate central New York, approximately 90 miles west of Albany and 50 miles east of Syracuse, currently enrolls over 3,700 students in 37 undergraduate majors, 27 minors, 20 graduate programs and a number of pre-professional and special programs.
###
---

NEW: UC ALUMNI DIRECTORY
Print volume by Harris Connect
Details >
---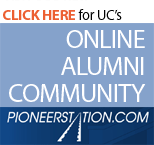 Convocation Address
Dorree Gurdak '92

"It is a privilege for me to stand here in front of you all 24 years later from when I sat in your seat."

Read full text >
"The educational background and professors at UC provided me with a grounding that has been very helpful in the career that is heavily based on math."
"The educational background and professors at UC provided me with a grounding that has been very helpful in the career that is heavily based on math."
~
Kathleen Potter
'78
Actuary
William M. Mercer, Inc.
Richmond, VA
Share
|