Alumni News
Alumni Relations


News stories
These are some current news items of interest to UC alumni:
Nurses Invited to Learn Better Care Strategies with Convenient Webinar Series
First Presentation to Address Adverse Drug Reactions, Common in Elderly Patients
Written By Alexis March '13, PR Intern
UC teams with the Pines Education Institute of Southwest Florida to provide valuable information for nurses.
---
Contact
cleogrande@utica.edu
Utica, NY (01/22/2013)
- The Pines Education Institute of Southwest Florida and Utica College have teamed together to present "eMAS: A New Approach to Recognizing Adverse Drug Reactions (ADRs) in Older Adults." The first in a series of webinars for nurses, the presentation will be held Jan. 30 from 10 a.m. to 12 noon, and will focus on avoiding hospitalizations and re-hospitalizations among nursing facility residents through an awareness of adverse drug reactions.
Elderly individuals are at higher risk of experiencing adverse drug interactions for several reasons. According to Netwellness.org, age-related changes in the body, exposure to multiple medications due to multiple health problems, social circumstances and confusion all can contribute to medication errors.
Ronald Lucchino, Ph.D. and gerontology expert, will discuss eMAS, a new approach in recognizing adverse drug reactions using observational changes in older adults and identifying which medications may be responsible. He will also review common medications and discuss reasons for a high incident of ADRs in older adults.
The presentation is the first of a series of webinars called "Better Eldercare: Care Strategies for Nurses." The webinar series aims to educate nurses about reducing inpatient hospitalizations and re-hospitalizations, as well as improving the overall quality of life for nursing facility residents.
The second webinar, "Lewy Body Dementia: It Isn't Alzheimer's or Parkinson's Disease - What Everyone Needs to Know," will be held on Feb. 4 from 3 to 4:30 p.m.
The third webinar, "Nursing Home Residents and Their Relationships: What Can You Do To Help," facilitated by Sarah Burnett-Wolle, Ph.D., CTRS, aims to educate participants how to understand older adults' social networks and how they change over time. The presentation will take place in March.
The cost of the first webinar is $99. Individuals registering for all three webinars may register at a discounted fee of $89 per webinar. Companies or facilities registering three or more employees may also register at the discounted fee of $89 per webinar. The fee includes webinar participation, webinar materials, and certificate of completion awarding CEUs.
To register for the webinar, visit www.utica.edu/eldercare-reg.
For more information, visit www.utica.edu.
About Utica College – Utica College, founded in 1946, is a comprehensive private institution offering bachelors, masters and doctoral degrees. The College, located in upstate central New York, approximately 90 miles west of Albany and 50 miles east of Syracuse, currently enrolls over 3,700 students in 38 undergraduate majors, 29 minors, 20 graduate degree programs and a number of pre-professional and specialty programs.
###
---

NEW: UC ALUMNI DIRECTORY
Print volume by Harris Connect
Details >
---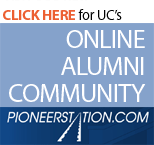 Convocation Address
Dorree Gurdak '92

"It is a privilege for me to stand here in front of you all 24 years later from when I sat in your seat."

Read full text >
"The educational background and professors at UC provided me with a grounding that has been very helpful in the career that is heavily based on math."
"The educational background and professors at UC provided me with a grounding that has been very helpful in the career that is heavily based on math."
~
Kathleen Potter
'78
Actuary
William M. Mercer, Inc.
Richmond, VA
Share
|