Campaign Overview




A MESSAGE FROM THE CAMPAIGN CHAIR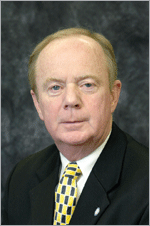 Utica College is a great institution. Many colleges would be content with this distinction, and we might be as well were it not for our long tradition of striving to achieve something better.
Many dreams and milestones have been realized in the 60 years since UC's founding. Chief among these are the dedication of a permanent campus in 1961 and the establishment of UC's charter as an independent institution with its own Board of Trustees in 1995.
Through the course of its many achievements, the College has earned a strong reputation for teaching and learning, one that is reinforced by national publications that have regarded UC among the top comprehensive colleges in the Northeast, by the 19,000 alumni for whom study at UC was a life-changing experience, and by businesses and communities that have benefited from the education of UC graduates.
But true to the legacy of this College, we cannot rest on our past accomplishments. In the spirit of our founders, we must work towards building a better future for this institution and fulfilling the remarkable vision our president, Dr. Todd Hutton, has set before us – that of becoming "one the nation's finest small universities." This is a bold challenge, but certainly no bolder than those we have faced before.
Achieve: A New Dream, A New Era
, will cement the future of this vibrant institution and sustain its traditions of innovation, excellence, and opportunity as it moves forward into a new era. Its success will require the active support of alumni, friends, faculty, staff, and parents.
I hope you will join us in meeting this historic challenge. With your help, we can achieve a new dream for Utica College.
James F. DuRoss, Jr.
Campaign Chair