Public Relations and Journalism
Public Relations
Public relations professionals help organizations build and maintain good reputations and communicate effectively with employees, the media, community groups, and others important to their missions. The Utica College public relations major provides a core of courses essential for today's public relations professional as well as a wide selection of courses to broaden the student's understanding of business, the media, communications, and the social sciences. Public relations majors learn and apply knowledge and skills used in public relations practice and also get a solid background in the liberal arts and sciences, which is important to career success.
Special Opportunities
The public relations major at UC is one of the nation's oldest four-year degree programs in public relations. It was established in 1950 and has produced more than 1,000 graduates. Dr. Raymond Simon, the program's founder, is a renowned educator and author whose many textbooks are used throughout the United States and the world.
The public relations curriculum allows students to tailor their education to their areas of interest. Major-related courses offer opportunities to study advertising, marketing, journalism, broadcasting, business, or political science, among other areas. Popular with public relations students are dual majors in journalism studies and minors in communication arts and management. Public relations majors also can easily fit in a semester of study abroad.
Critical to the success of a public relations major is the internship experience. Senior public relations majors are required to complete an internship. Internships are available during the semester with various central New York businesses and not-for-profit agencies. Students also may choose to complete internships during the summer in their hometowns or in major cities. Utica College students have served as interns with major corporations such as Disney, John Hancock Insurance, General Electric, and with some of the world's largest public relations firms, including Burson-Marsteller, Hill & Knowlton, and Ketchum Public Relations. In many cases, internships have led to jobs upon graduation.
Besides an internship, another important ingredient for career success in public relations is involvement in campus media and organizations. The Tangerine, Utica College's weekly campus newspaper, is a great place to try out photography and writing skills as well as put into practice the computer design principles learned in classes. The campus also has a student radio station where public relations majors hold positions as disc jockeys or news announcers.
The campus chapter of the Public Relations Student Society of America (PRSSA) provides opportunities to network with professionals in the field through its parent organization, the Public Relations Society of America (PRSA). UC students have hosted regional PRSSA conferences. They regularly attend the national PRSA conference and also participate in national public relations competitions.
Another very special aspect of UC's PR department is the Raymond Simon Institute for Public Relations (RSI). The Institute gives annual scholarships and cash awards to outstanding students in the major. The RSI also sponsors a professional-in-residence program, which brings major figures in public relations and the media to campus.
Facilities
The public relations program has a modern computer lab with access to the Internet. The lab is equipped with software programs for word processing and desktop publishing that are commonly used in the public relations field.
Faculty
Members of UC's public relations faculty have strong professional backgrounds as well as continuing involvement in their field.
Professor Patricia Swann has more than 20 years experience in the field of journalism and public relations. She worked in journalism as a reporter/feature writer for The Southeast Missourian, a daily newspaper, and has spent the bulk of her professional career involved in healthcare and educational public relations. She has won national, state and local awards for writing, photography, publication design and public relations activities. Before joining the Utica College program, Professor Swann was a professor at SUNY Morrisville's journalism program. She is a member of the Public Relations Society of America and serves as faculty advisor for the Raymond Simon Chapter of the Publication Relations Student Society of America at Utica College. She received her master's degree in public relations from Syracuse University S.I. Newhouse School of Public Communication and her bachelor's of arts degree in mass communication from Truman State University.
Public relations professionals currently working in the field also serve as guest lecturers and instructors and bring the real world of public relations practice into the classroom.
Career Opportunities
UC public relations graduates have a variety of career options. Alumni of the program have gone on to successful careers with major corporations and businesses of all sizes, public relations firms, the media, and other organizations that employ skilled writers and communicators. UC graduates also find jobs at hospitals and other health agencies, colleges and universities, government agencies, sports and arts organizations, and charitable groups. Some alumni have taken their skills into advertising, marketing, politics, law, or journalism.
UC Graduates
"One of the best things about UC was its caring faculty. When I had a problem, the professors were never too busy to give me the one-to-one attention I really needed. That's what sets UC apart from the rest."
--Nicole Benedetto '92, Senior Editor/Writer, New York State Assembly Communication and Information Services
"After graduation, I quickly realized that my training at UC gave me the tools necessary to make an immediate impact in the agency business. I still find myself tapping the resources of our PR/J family, including faculty, fellow alumni, and friends of the program."
--Bradley Buyce '91, VP/New York Account Director, Ketchum Public Relations, New York, NY
"I was able to apply the concepts I learned in the classroom through my student work experiences in the UC Admissions and Public Relations offices. This experience helped solidify my decision to pursue a career in higher education public relations, a field I have remained dedicated to for nearly 20 years."
--Alison N. Hayes '84, College Relations Officer, Finger Lakes Community College, Canandaigua, NY
"UC helped me become a better writer. When I selected UC, I already had a number of years of radio experience. But knowing how to ad-lib over a microphone didn't mean I had perfect written communications skills. The PR/J classes at UC gave me the discipline and professional framework to match up with my entrepreneurial spirit and need to make a buck. Instructors were accessible. The Tangerine allowed me to try my hand at recruiting and motivating a staff."
--David Armon '83, President, PR Newswire Americas, New York, NY
Further Information
Contact Paul MacArthur, Chair, Public Relations and Journalism.
pmacart@utica.edu
---
Public Relations
and Journalism
@Utica College

---
Admissions Events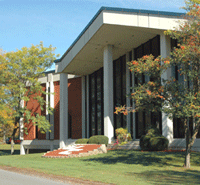 JOIN US ON CAMPUS:

EXPERIENCE UC

Meet students and faculty, tour campus, and join us for lunch.
Learn more / register


SATURDAY INFO SESSIONS
Q&A with staff followed by a campus tour.
Learn more / register
OPEN HOUSE
Learn more about programs, financial aid, student life, more.
Learn more / register
Upcoming events >