Bachelor of Science Degree • School of Business and Justice Studies

Management Major
Program Details
(Concentrations in General Management, Human Resources Management, Marketing Management, and Risk Management and Insurance.)
Management is the process of bringing people and resources together to accomplish something. Businesses, not-for-profit organizations, government departments, and other groups all need the skills of effective managers. Management is about leadership, creativity, effective communication, and commitment to getting the job done well.
Real-world experience
The goal of the undergraduate management program at Utica College is to prepare students thoroughly for entering this exciting field. Learning the fundamental principles of the field; using the tools and techniques of today's workplace; experiential learning by means of internships, co-ops, and "live" cases; direct contact with business leaders both in and out of the classroom; keeping abreast from freshman year onward of the constant changes in the world of management -- all of these and more combine to help us prepare tomorrow's leaders.
Students also are able to gain valuable experience through supervised internships and cooperative education positions. These positions have been, to cite a few examples, at the Bank of New York, Smith Barney, Inc., Merrill Lynch, Metropolitan Casualty and Life, Fleet Bank (now Bank of America), Utica National Insurance, Prudential Financial Preferred, Utica-based polling firm Zogby International, and the Observer-Dispatch.
Faculty
The management faculty prides itself on being able to use its expertise to enrich the learning experience of UC students in and outside the classroom. In addition to the individualized academic advising that is provided, many faculty members serve as advisers to active student organizations such as the Marketing Club and the Society for Human Resources Management.
Academic Minor
In addition to the management major, a minor in the field is also available for students who may wish to combine preparation for management with organized study of another discipline. Likewise, students majoring in management are encouraged to take courses or complete minors in other fields.
Major in Management Curriculum
The purpose of the major is to prepare graduates for competent and responsible participation in business and society. Recognizing the crucial role of business activity for our economy and society, the major is designed to introduce students to the way business functions in the larger social context. Business operations are presented in an integrated fashion, as they will be in a real business environment. Issues of ethics and social responsibility, the global nature of business, and technological developments, as well as skills in interpersonal dynamics, research, and oral and written communication, are emphasized throughout the curriculum.
For further information, please contact Stephen Peek, Chair, Management at
speek@utica.edu
.
Total credit hours required for degree: 120
ACADEMIC REQUIREMENTS
(See also
General Education Core
)
Course
Credit Hours
Year Taken
Core
34-55
Major Course Requirements
(Some of the following may be used to satisfy college core requirements)

Accounting 201
Financial Accounting
3
2
Accounting 202
Managerial Accounting
3
2
Business Law 301
The Legal Environment of Business
or
Economics 346
Government and Economic Life
3
2,3
Economics 131
Principles of Microeconomics
3
1
Economics 141
Principles of Macroeconomics
3
1
Economics 241
Statistics
3
2,3
Economics elective*
300- or 400-level course in Economics
3
3,4
Finance 333
Corporation Finance
3
2
Management 101
Introduction to Contemporary Business
3
1
Management 201
Principles of Business Management I
3
2
Management 202
Principles of Business Management II
3
2
Management 301
Intermediate Business Management
3
3
Management 451
Advanced Principles of Management
3
4
Elective
300- or 400-level elective in Accounting, Economics, Finance, Management, or Marketing
3
3,4
Mathematics 143 & 144
Mathematical Analysis for Business and Economics I and II
or
Mathematics 201
Calculus I
3 or 6
1,2
45-48
Concentration
Day students should select one concentration from among General Management, Human Resources Management, and Marketing Management. Continuing Education students must select the General Management concentration.


Concentration in General Management

Choose two courses in Management at the 300- or 400-level
(One of these may be Management 470, Internship)
Choose one 300- or 400-level course from each of two of the following areas:
Accounting, Economics, Finance, Marketing
12
3,4

Concentration in Human Resources Management

Management 371
Human Resources Management
3
3,4
Choose three of the following courses:
Economics 344
Labor Economics
Economics 375
Health Economics
Management 375
Collective Bargaining
Management 300 or 400
Selected Topics in Management
Management 470
Internship
Psychology 372
The Counseling and Interviewing Process
9
3,4
12


Concentration in Marketing Management

Marketing 481
Marketing Management
3
3,4
Choose three of the following courses:
Economics 332
Managerial Economics
Marketing 311
Elements of Advertising
Marketing 412
Sales Management and Personal Selling
Marketing 413
Market Research
Marketing 415
International Marketing
Marketing 300 or 400
Selected Topics in Marketing
Marketing 470
Internship
9
3,4
12

Concentration in Risk Management and Insurance

RMI 273
Introduction to Risk Management and Insurance
3
2,3
RMI 483
Risk Management
3
4
Choose two of the following courses:
RMI 325
Principles of Insurance: Life, Health, and Annuities
RMI 367
Derivatives Markets
RMI 375
Quantitative Financial Analysis of Risk
RMI 470
Internship in Risk Management and Insurance
6
3,4
12
Recommendation to participate through membership in Gamma Iota Sigma.
Electives
The student must complete sufficient elective courses to earn at least the minimum credit hours required for this degree, and at least 60 credit hours of the 120 required must be in the liberal arts and sciences. Students are encouraged to select electives that will complement their major course of study, for example, courses in Anthropology, Communications, Government and Politics, History, International Studies, Law, and Sociology.
* Must be a course other than the one used in the concentration.
Admissions Events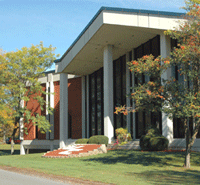 JOIN US ON CAMPUS:

SATURDAY INFO SESSIONS
Q&A with staff followed by a campus tour.
OPEN HOUSE
Learn more about programs, financial aid, student life, more.
Upcoming events >

"Utica College does a great job following up with businesses and making sure client needs have been met. I highly recommend the [professional development] program to anyone interested in it because it's a great way to enhance employee skills."
"Utica College does a great job following up with businesses and making sure client needs have been met. I highly recommend the [professional development] program to anyone interested in it because it's a great way to enhance employee skills."
Richard Pratt '90
Manager of Employee Relations
Excellus BlueCross BlueShield of Utica-Watertown
Share
|