Major in Health Studies - Management
Health Studies Management - Program Student Learning Goals
A Competent

Health Studies Management student will:
understand the basic concepts of managing a health care organization

be able to describe a health systems system's past, current and possible future behaviors, based on an understanding of the interdependencies of social, economic, political and systems.
Communications – As a strong communicator Health Studies students will:

demonstrate effectiveness in written communications (writes clear, concise, and grammatically correct professional prose)

demonstrate strong and effective in oral communication skills–(makes oral presentation of management principles in a clear manner)

demonstrate effective

interpersonal communications skills (can communicate well with other individuals in team interactions)
Critical Thinking – As an astute critical thinker our Health Studies students will:

critically evaluate the context and quality of management healthcare delivery within and outside the United States

be able to understand the advantages and disadvantages of public and private management practices




articulate basic healthcare policies related to

federal, state and accrediting bodies
Ethical Leadership – Our Health Studies students will:



recognize key statutory requirements and codes of conduct affecting medical practices
comprehend the ethical issues commonly encountered in medical practice.
recognize that poor ethical reasoning can lead to severe negative outcomes to a wide variety of publics.
understands that ethical decisions have both personal as a well as social and legal outcomes
is able to apply ethical codes of conduct: Recognizes that ethical decisions do not always have quick or perfect solutions.
Global Business Understanding – Our Health Studies students will:
analyze factors and challenges that impact healthcare delivery within and outside the United States.
be able to describe policies that address the need for medical sensitivity across diverse social and cultural populations
Updated 2012-13


---
Admissions Events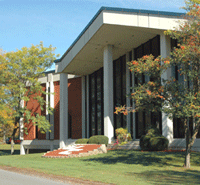 JOIN US ON CAMPUS:

EXPERIENCE UC

Meet students and faculty, tour campus, and join us for lunch.
Learn more / register


SATURDAY INFO SESSIONS
Q&A with staff followed by a campus tour.
Learn more / register
OPEN HOUSE
Learn more about programs, financial aid, student life, more.
Learn more / register
Upcoming events >