Major in Criminal Justice
Criminal Justice

Course Descriptions


CRJ 101 – Introduction to Criminal
Justice Research Methods
(1) F, S
Basic research/writing principles that
should be applied to criminal justice as a
field of study.

CRJ 103 – Introduction to Criminal Justice
(3) Y
History, theory, and structure of the
criminal justice system emphasizing substantive
and procedural criminal law;
police, prosecution, defense, courts,
institutional and community corrections;
juvenile justice subsystem.

CRJ 212 – American Policing
(3) Y
Role of police in American society.
Topics include nature of police subculture,
professionalism, personnel selection,
unionism and operational trends.
Prerequisite: Criminal Justice 103 or
equivalent.

CRJ 221 – Issues in Juvenile Justice
(3) Y
Philosophy and methods of criminal justice
programs for the prevention and
control of youth crime. History of the
juvenile justice system, police handling
of juveniles, the juvenile court, detention,
and treatment of offenders.

CRJ 224 – American Corrections
(3) Y
Overview of probation, jails, prisons,
and parole. Incarceration rationales,
methods of dealing with offenders, organizational
theory, inmate social systems,
and program effectiveness.

CRJ 235 - American Criminal Courts
(3)
Legal origins of American criminal courts, court
procedures and trial process, sentencing and appeals.
Topics also include roles of prosecution, defense,
judges, juries, the media, and the public.

CRJ 250 – Probation/Parole and Sentencing Alternatives
(3) Y
Major theoretical and operational concepts
related to probation, parole, and
alternatives to incarceration at state and
federal levels.

CRJ 300 – Special Topics in Criminal Justice
(1–3) Y
Consideration of one or more contemporary
topics. Tailored by individual
instructors. Each variation may be taken
for credit.

CRJ 305 - Terrorism
(3)
Overview of terrorism and counterterrorism
in global and domestic contexts. Introduction
to evolving definition and models of terrorism,
causes, key events, countermeasures. Origins,
structure, and activities of terrorism, and socio-cultural environments that lead to terrorism.

CRJ 314 – Modern Techniques in Crime Investigation
(3) Y
Theory and practice of modern investigation
methods for public and private
sector agencies. Techniques and procedures
for evidence collection, preservation,
and presentation. Reviews investigation
resources, including crime laboratory
and databases. Prerequisite:
Criminal Justice 103 or equivalent.

CRJ 324 - Violence in the Workplace
(3)
Different types of violence and how they occur
in the work setting. Designed to accommodate
many different areas of interest, not just law
enforcement. Prerequisite: Junior Standing.

CRJ 334 – Economic Crime Investigation
(3) Y
White collar crime in the United States.
Emphasizes investigatory techniques
related to these types of crime.
Prerequisite: Criminal Justice 103 or
equivalent.

CRJ 335 – Cyber Crime Law and Investigations
(3) Y
Cyber crimes, including computer
crimes, Internet fraud, e-commerce, and
threats to the national infrastructure.
Policies, legal issues, and investigative
techniques and strategies, and implications
for investigation and enforcement
on a global scale.

CRJ 342 – Constitutional Law in the Criminal Process
(3) Y
Case study approach to theoretical and
applied knowledge of constitutional
issues affecting the criminal justice system.
Develops research and analytical
skills for further study of the
Constitution and its changing interpretation.
Prerequisite: Government and
Politics 341.

CRJ 343 – Law of Economic Crime
(3) Y
Government and judicial regulations of
financial institutions, commercial
entities, their agents, and employees in
relation to economic and business crime.
Constitutional issues in investigations by
governmental and corporate entities in
both a substantive and procedural
context.

CRJ 345 – Criminal Evidence
(3) O
Rules of evidence and trial procedures
applicable to criminal cases at the state
and federal levels. Student mock trial
experience as witness and attorney.

CRJ 351 – Comparative Criminal Justice Systems
(3) Y
Design, operation, and legal basis for
systems of justice in other countries.
Governmental, political, demographic,
and economic factors in past and current
trends in the adjudication of
offenders. Cross-cultural analysis of
causes of crime and systems of justice.
Prerequisite: Criminal Justice 103.

CRJ 382 – Administrative Issues in Criminal Justice
(3) IR
Issues in the organization and management
of criminal justice agencies, including police departments, prosecutors' offices, courts, jails, prisons, and
community corrections.

CRJ 441 – Applied Legal Research and Communication
(3) Y
Develops analytical and practical skills
appropriate for those desiring to work in
the legal field. Case analysis, legal bibliography,
legal research, preparation of
legal memoranda and appellate briefs.
Moot court experience is provided.
Prerequisite: Government and Politics
341 or permission of instructor.

CRJ 461 – Senior Seminar
(3) Y
Selected topics of current interest.
Emphasizes critical analysis of current
research literature and development of
action projects by seminar members.
Integrates previous learning as a capstone
experience. Prerequisite: permission
of instructor.

CRJ 470 – Internship
(6–15) S,U
Participation on staff of criminal justice
agency under co-supervision of faculty
and agency personnel. Field experience,
periodic conferences and seminars,
written and reading assignments
designed to combine theory and professional
practice. Prerequisite: permission
of instructor.

CRJ 475 - Senior Project
(3-6)
Senior level research project on policy issue
determined after consultation with faculty supervisor.

CRJ 490 – Independent Study
(1–6)

Note: The figure in parentheses following the title of the course indicates the credit hours per term. Courses that extend through two terms are shown as follows: (3, 3). Courses that are one term only are shown by: (3). Courses with variable credit are shown with the range of credit available, for example: (1-6).

Letters appearing after course credit hours in this section are explained as follows:
S=Spring
IR=irregularly
F=Fall
U=Summer Session
Y=at least once each academic year Check schedule for Winter Session
O=every other year

The College reserves the right to cancel any course if registration does not justify continuance and to make changes in curricula at any time.


---
Admissions Events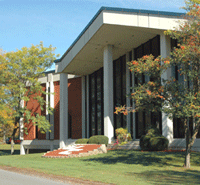 JOIN US ON CAMPUS:

EXPERIENCE UC

Meet students and faculty, tour campus, and join us for lunch.
Learn more / register


SATURDAY INFO SESSIONS
Q&A with staff followed by a campus tour.
Learn more / register
OPEN HOUSE
Learn more about programs, financial aid, student life, more.
Learn more / register
Upcoming events >