Study Abroad
Highlights

Annual Forensic Anthropology Field School

Albania, Greece, and Romania

Dates: May 15 - June 7, 2018

Program is open to:
UC students (undergraduate and graduate);
Students of other institutions; and
Non-credit participants interested in forensic science, bioarchaeology, paleopathology, classical archaeology, museum studies, and heritage tourism.
Trip will include:
10-day stay at a bed and breakfast located at the gates of Butrint, a magnificent Greek and Roman archaeological site and Albania's first national park;

2 days in Tirana, Albania's capital city;

2 days on the historic Greek island of Corfu;

5 days in Bucharest, Romania's capital city; and

Hands-on study with actual skeletal remains from ancient sites and the extensive paleopathology collection at the "Francisc I. Rainer" Anthropology Institute in Bucharest.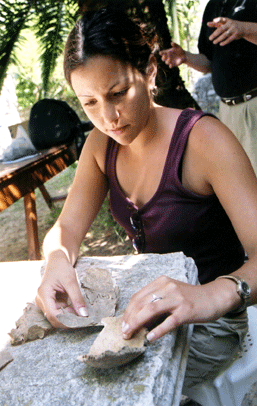 Academic Credit
Participants may enroll for 6 credits (undergraduate: ANT 347 / graduate: ANT 547)
Non-credit participants are also welcome (based on availability - contact us for more information)
Top

Back
---
SIGN UP TODAY!

To reserve your place in this year's field school, contact:

Thomas Crist, Ph.D.
Harold T. Clark, Jr. Professor of Anthropology and Anatomy Professor of Physical Therapy Forensic Anthropologist
(315) 792-3390
tcrist@utica.edu
Space is limited - contact us early if you're interested.
---
Note:
All participants must submit a
NONREFUNDABLE deposit of $750
with their application. The program fee must be
paid in full by April 15, 2018.
(Utica College accepts checks and credit cards.)
IMPORTANT
Please read this brief notice about health insurance.
Insurance Info →