Academics at Utica College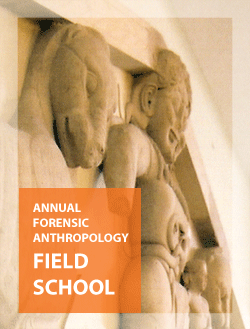 Study Abroad
Meet interesting people...
who lived 1,000 years ago.

Forensic Anthropology Field School


Albania, Greece, and Romania

Dates:
May 16 - June 9, 2017


Join us for a fascinating 25-day learning experience that features visits to some of the world's greatest historical monuments and hands-on study using actual human skeletal remains, including at the magnificent 3,000-year-old archaeological site in Albania's Butrint National Park.
Utica College's annual Forensic Anthropology Field School is:
Open to students and non-credit travelers alike
All majors are welcome - no experience required

IMPORTANT

Please read this brief notice about health insurance -

click here >

A great way for students to earn 6 credits (both undergraduate and graduate levels)
Course credit is transferable to all U.S. and Canadian colleges and universities
Learn More:
> Field school highlights

> Itinerary

> Course description

> Passport/vaccination info

> Program costs

> Program director profiles


Sign Up Today!
To reserve your place in this year's field school, just call or
e-mail Professor Thomas Crist, Ph.D.

Space is very limited, so contact us now if you think you may be interested in participating - there is no obligation.
Contact:
Thomas Crist, Ph.D.
Harold T. Clark, Jr. Professor of Anthropology and Anatomy
Professor of Physical Therapy
Forensic Anthropologist
(315) 792-3390
tcrist@utica.edu

Note:

All participants must submit a NONREFUNDABLE deposit of $750 with their application. The program fee must be paid in full by April 15, 2017. Utica College accepts checks and credit cards.


Top

Back