Major in Psychology
Bachelor of Arts / Bachelor of Science Degree •
School of Arts and Sciences


Psychology Major
Program Details
Psychology is the scientific study of behavior. While most psychologists are interested primarily in human behavior, many focus much of their research on the behavior of animals. All, however, use carefully controlled methods of observation, such as the survey or the experiment, in their effort to understand behavior. Psychology, like other sciences, seeks to describe, explain, predict and control the events it studies. Thus, psychology attempts to answer questions about the underlying processes that determine the complexity of behavior.
Majoring in psychology may provide a variety of career opportunities within the fields of Public/professional service, Research, and Education.
Most of the careers require training in addition to a major in psychology, and this curriculum provides a broad background in psychology for those students intending to pursue advanced studies in graduate or professional institutions and to seek employment as psychologists in research, industry, college teaching, clinical applications, and as school psychologists and guidance counselors. Students interested in advanced training should investigate the specific requirements for entrance into their professions or professional schools and carefully plan their pre-professional curricula in consultation with their advisers.
The major in psychology also provides a general liberal arts education with a diversity of career opportunities for students wishing to seek more immediate employment. Students planning participation in ancillary professions such as social, human, or community services (with no plans for graduate study) should plan their curricula in accordance with their advisers' recommendations and their own particular needs.
Students considering public school teaching as a career should refer to the programs in education - see academic programs or download our current catalog.

ACADEMIC REQUIREMENTS
(See also
General Education Core
)
Course
Credit Hours
Year Taken
Core
34-55
1,2,3,4
Major Course Requirements
Psychology 101
Introduction to Psychology
3
1
Psychology 202
Advanced General Psychology
3
2
Psychology 211
Statistics in the Behavioral Sciences
3
2
Psychology 312
Introduction to Experimental Methods in Psychology
4
2,3
Psychology 406
History of Psychology
3
4
One course from each category
19
3,4
At least one of these courses must include a psychology laboratory.
Clinical
Psychology 311
Psychological Testing and Assessment
Psychology 311L
Laboratory in Psychological Testing
Psychology 361
Abnormal Psychology
Psychology 462
Theories of Personality
Developmental
Psychology 223
Life Span Developmental Psychology
Psychology 321
Infancy and Childhood
Psychology 322
Adolescence
Psychology 327
Adulthood and Aging
Social/Cognitive
Psychology 331
Social Psychology
Psychology 331L
Laboratory in Social Psychology
Psychology 337
Industrial and Organizational Psychology
Psychology 354
Cognitive Psychology (includes laboratory)
Neuroscience
Psychology 343
Sensation and Reception (includes laboratory)
Psychology 347
Psychobiology
Learning
Psychology 256
Principles of Behavior Change
Psychology 351
Learning and Behavior (includes laboratory)
Psychology 352
Motivation and Emotion
Psychology 453
Theories of Learning
Senior Experience*
Psychology 411
Senior Seminar
Psychology 412
Research Seminar
Psychology 470
Practicum in Psychology

* Students considering graduate study in psychology are encouraged to take two. Students enrolled in the Major Honors in Psychology program must complete the Honors Tutorial, Psychology 489-499, in lieu of the Psychology 411, 412, or 470 requirement. Consult your adviser and the catalog for other requirements.


Psychology Electives
(May include Anthropology 375)
6
3,4
Elective Sequence
Nine hours of related coursework approved by the student's adviser. Courses used in this sequence may not be used to fulfill the student's core requirements. Completion of a double major or a minor fulfills this requirement.



9



3,4
Additional Course Requirements
Students desiring to earn the B.S. degree in Psychology must take two additional courses in the major at the 300- or 400-level


6


3,4
48-54
Facilities
UC's psychology department offers excellent facilities for research and discovery.
[Click here for full list]
Admissions Events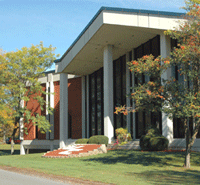 JOIN US ON CAMPUS:

EXPERIENCE UC

Meet students and faculty, tour campus, and join us for lunch.
Learn more / register


SATURDAY INFO SESSIONS
Q&A with staff followed by a campus tour.
Learn more / register
OPEN HOUSE
Learn more about programs, financial aid, student life, more.
Learn more / register
Upcoming events >
"The field placements through UC provided me with the important experiences that helped me get my job and be competent at it."
"The field placements through UC provided me with the important experiences that helped me get my job and be competent at it."
Miriam Carrillo '95
Assistant Coordinator
New Horizons
Share
|