Programs in Nursing
Bachelor of Science Degree • School of Health Professions
and Education
Nursing Major

Faculty

Nancy J. Vaccaro, M.S.
Assistant Professor of Nursing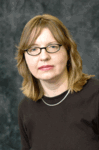 Phone: (315) 792-3119
Office: R203 Romano Hall
Biography
---
Nancy Vaccaro, M.S., R.N., Assistant Professor of Nursing came to Utica College 2004 as the Lab Coordinator/Clinical Coordinator to the School of Health Professions and Education. She coordinated the blueprints and the internal organization of the construction of the state-of-the-art Nursing Lab in Romano Hall. The opening of the lab took place in the fall of 2007.
Nancy has been very active in setting up experiences in the lab for all learning levels within the nursing program. In 2005 she joined the International Association of Clinical Lab Simulation (INACLS) and the New York State Resource group (NYSRG). In fall of 2009, Nancy accepted the position of Assistant professor of Nursing. She is the Simulation Learning System Coordinator, and will be implementing this technology (leveled clinical scenarios and electronic medical record) in the fall of 2010 in collaboration with Elizabeth Gleasman. She plans to explore other opportunities for clinical simulation research, including interdisciplinary use of simulation. In addition, Nancy is credentialed and works per-diem as a hospital supervisor in a local facility.
---
State-Of-The-Art Facilities
NURSING:

ALBERT AND GLORIA SHAHEEN
NURSING LAB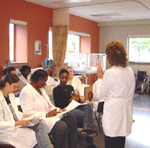 L
ocated
in Utica College's F. Eugene Romano Hall, the Dr. Albert and Gloria Shaheen Nursing Laboratory is a cutting-edge educational facility for advanced clinical learning on campus.
...more.

Admissions Events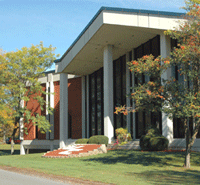 JOIN US ON CAMPUS:

EXPERIENCE UC

Meet students and faculty, tour campus, and join us for lunch.
Learn more / register


SATURDAY INFO SESSIONS
Q&A with staff followed by a campus tour.
Learn more / register
OPEN HOUSE
Learn more about programs, financial aid, student life, more.
Learn more / register
Upcoming events >