Faculty
Bachelor of Science Degree • School of Health Professions
and Education
Nursing Major

Faculty

Annette L. Becker, M.S.
Associate Professor of Nursing
Phone: (315) 792-3078
Office: 238 White Hall
Biography
---
Annette Becker is Director of the RN to BS program at Utica College. She has been teaching with the UC Department of Nursing since January 2006. Prior to that she taught nursing at Syracuse University and was a Clinical Educator for Psychiatric Services at SUNY Upstate Medical University Hospital. Annette teaches the Psychiatric Mental Health Nursing curriculum, Trends and Issues in Nursing, Introduction to Nursing and an elective entitled Care of the Human Spirit.
Annette is currently completing her dissertation to fulfill the requirements of the Doctorate of Nursing Science (DNS) degree from Sage Graduate School in Albany, NY. Her research interests are in the area of RN-BS student development and self-authorship, program development and evaluation, and spirituality and health.
State-Of-The-Art Facilities
NURSING:

ALBERT AND GLORIA SHAHEEN
NURSING LAB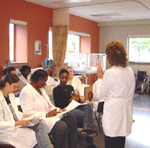 L
ocated
in Utica College's F. Eugene Romano Hall, the Dr. Albert and Gloria Shaheen Nursing Laboratory is a cutting-edge educational facility for advanced clinical learning on campus.
...more.

Share
|