Apply Now - Nursing Programs
Submit your application for:
B.S. in Nursing (Ground Program)
RN to BS Program (Online)
Accelerated Second Degree Nursing Program
State-Of-The-Art Facilities
NURSING:

ALBERT AND GLORIA SHAHEEN
NURSING LAB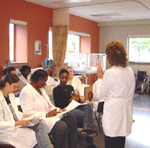 L
ocated
in Utica College's F. Eugene Romano Hall, the Dr. Albert and Gloria Shaheen Nursing Laboratory is a cutting-edge educational facility for advanced clinical learning on campus.
...more.

Share
|