Health Studies - Learning Goals
Health Studies - Program Student Learning Goals
Graduates will:
Communicate an awareness of and appreciation for the importance of interacting effectively with people of diverse backgrounds.


Demonstrate an understanding of the varied interdisciplinary health care roles inclusive of Occupational Therapy, Physical Therapy, Nursing, Therapeutic Recreation and Psychology-Child Life.


Interpret and apply Human Development concepts across the life span to evaluate and improve the health of individuals with/without various medical conditions.


Demonstrate critical appraisal skills when utilizing clinical research in order to be critical consumers of research as well as advocates for their future healthcare clients.


Identify key components of professional ethics and behaviors of health practitioners.



Careers in Health Studies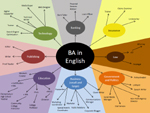 What can you do with a Health Studies degree?

View this diagram for some great options. Go >

Share
|