Aquatics Club
Aquatics Club

Make a Splash... Join Today!
Program
The Utica College Aquatics Club offers both individuals and families the opportunity to swim in the College's competition size swimming pool. Participants may also take advantage of expert assistance in personal swimming concerns. Registration is available for both individuals and families. Special rates are extended to Utica College alumni.
Please note
that registration for the program is only accepted
September – December of each year.
Hours:
Fall and Spring Terms:

Monday, Tuesday, Wednesday, Thursday, and Friday,
12:00 - 3:00 p.m.
Tuesday, Wednesday, and Thursday evenings,
7:00 – 9:00 p.m.
Alternate Saturday and Sunday,
1:00 – 4:00 p.m.
Summer Term:
Monday – Friday, 12:00 – 3:00 p.m.
Aquatics Program Brochure


Print / Download brochure >

Registration
Please reference the registration information and form found in the Aquatics Club brochure.
Questions

Contact us by phone at (315) 792-3344 or by email at
profdev@utica.edu
About Us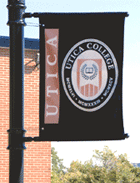 Office Location:

273 Gordon Science Center
View campus map >
Office Hours:
Monday – Friday
8:30 a.m. – 5:00 p.m.
8:30 a.m. – 4:30 p.m. (summer hours)
Meet our Staff:

Joni L. Pulliam, M.S.
Executive Director
Corporate Programs and Conference/Meeting Services
(315) 792-3344
jpulliam@utica.edu
Evelyn Fazekas, M.S.

Director
Corporate and Professional Programs Operations
(315) 792-3344
efazekas@utica.edu
Debra A. McQueary, A.A.S.

Coordinator for Conference and Meeting Services
(315) 792-3344
dmcqueary@utica.edu
Share
|