Bachelor of Science / Bachelor of Arts Degree •
School of Arts and Sciences



"Look deep into nature, and then you will understand everything better"
- Albert Einstein



Studying Physics: The UC Advantage


U
tica College's
physics major offers students a robust introduction to the science of the physical world. From the basic structure of atoms and matter to the complex interactions of galaxies throughout the Universe, our program provides students with an opportunity to explore the fundamental nature of the physical universe.
With an accomplished faculty and an individualized learning environment, the UC physics program is an excellent choice for students considering graduate school as well as careers in research, teaching, engineering, or other areas that demand a strong foundation in physical science.


Curriculum

We have a flexible program that fits a broad range of professional outcomes, with options for both bachelor of science and bachelor of arts degrees:
BACHELOR OF SCIENCE DEGREE

- designed for students planning on attending graduate school and on careers in research or engineering;


BACHELOR OF ARTS DEGREE

- designed for students planning to work in business or government in positions requiring a background in the physical sciences, and for students planning on teaching physics or physical science in primary or secondary school.
Program Student Learning Goals
Transfer Programs in Engineering
The program offers 2-2 and 3-2 engineering transfer options. For specific program details, see
academic requirements >
Career Outcomes

UC's physics major provides foundational preparation for career opportunities in:
Research and Development
Engineering
Laboratory Technician
Teaching
Recent graduates of the Physics program have gone on to complete advanced degrees (in physics or engineering) at a number of nationally renowned universities including Syracuse University, the University of Pittsburgh, SUNY Albany, Clarkson, and others.
Graduates of the physics program have taken leadership positions at:
Air Force Research Lab
Naval Surface Warfare Center
James Madison University
ConMed Corporation
INFICON, Inc
Technology
Over the last decade the College has added more than $250,000 in new instrumentation
to the program with substantial help from the National Science Foundation and the Camille and Henry Dreyfus Foundation.

[Click here for full list]

Admissions Events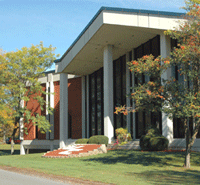 JOIN US ON CAMPUS:

SATURDAY INFO SESSIONS
Q&A with staff followed by a campus tour.
OPEN HOUSE
Learn more about programs, financial aid, student life, more.
Upcoming events >

"It has made a big difference to have my degree along with my experience. I wouldn't have all the opportunities I have now if it wasn't for UC."
"The best thing I learned from physics was problem-solving skills. I learned to look at a problem and approach it from several different ways. This makes it much easier to solve problems in the lab at work. It has made a big difference to have my degree along with my experience. I wouldn't have all the opportunities I have now if it wasn't for UC."
Robert Duda '92
Lab Manager/Senior Design Engineer
Nordson Corporation
Duluth, GA
Full Quote
Share
|