Performing and Fine Arts

SCHOOL OF ARTS AND SCIENCES
Faculty

Frank J. Cittadino, M.F.A.
Adjunct Professor of Fine Arts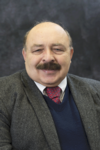 Phone: (315) 223-2378
Office: B5 Hubbard Hall
Biography
---
Professor Cittadino has had a long career in the visual arts and arts education. As a practicing artist, he has had over thirty one person exhibitions of his original paintings and bronze and steel sculpture.
His work has included the development of the first state wide art exhibition: The Legislative Art Exhibition held each Spring at the State Capital. He served for many years on the NYS Committee for Curriculum and Assessment which developed the State Arts Standards and the Executive Committee of the Arts Alliance. He has worked closely for years with the State Educational Department developing arts curricula and training as well as state initiatives in arts assessment and certification.
At Utica College he teaches courses in the History of Art both on campus and on line and studio courses.
His instructional approach in the history of art encourages students to engage in critical inquiry and interpretation rather than the memorization of minute facts. His studio courses in the visual arts including Painting, Drawing, Color Theory and many others.
Among leadership positions he has held include President of the NYS Art Education Association; Co-Chair of the National Arts Standards Committee; President of the Clinton Historical Society, and recently co-author with his wife, Faye of a historical look at Clinton and the Town of Kirkland.
"My students never cease to amaze me with their commitment to understanding and enjoying the essence of what the visual arts are about: giving visual life to the creative and cultural expression of human kind."
Professor Cittadino holds advanced degree from The College of Visual and Performing Arts at Syracuse University; State University of New York; and Graduate Honors Program at Rhode Island School of design.