Performer Profiles - Fall 2014 Season

Coming September 3, 2014:

Laurie Dapice and Rick Montalbano

Jazz Duo

About the Performers:
Laurie Dapice at the age of 14 began voice training with internationally renowned Tenor Pasquale Caputo. She relocated to New York City in 1998 to follow her dreams and began her journey and education at Mannas College of Music and The New School University of Jazz and Contemporary Music, attaining a Bachelors of Fine Arts Degree in Performance & Music in 2006. In 2008 she was chosen as one on NYC's top 12 Jazz Singers to compete in a legendary competition, founded by Dr Billy Taylor's JazzMobile, and made it to the top final four. A month later she headed to Japan for a month long performance in The Zenith Sky Lounge at The Marriott Hotels 56th floor Penthouse as the headlining act six nights a week. Returning to Manhattan, she accomplished a life long dream, recording & completing her first Album, Parting the Veil, at Bennett Studios in Englewood N.J. and which was released in 2013.


Rick Montalbano, pianist, organist, composer, arranger, and educator started his career in the early 1960's and has performed with a long list of jazz greats. Rick served as pianist/conductor for singer Lou Rawls in the early 70s. He currently plays solo piano at The Savoy in Rome, NY, performs with and contracts bands for the Showroom at the Turning Stone Casino and is much demand as an accompanist. In addition to operating the Music Factory recording studio, Rick teaches jazz piano at Colgate University, Hamilton College and Syracuse University and is the assistant director of the Central New York Jazz Orchestra.


Event begins at 12:30 P.M.

Library Concourse
Event calendar listing >

Back ♦ Top of Page


---
Coming September 10, 2014:

Elinor Cramer
Poet

About the Author:


Elinor Cramer's first poetry collection, She Is a Pupa, Soft and White was published in 2011 by Word Press. She is the author of a chapbook, Canal Walls Engineered So Carefully They Still Hold Water. Elinor holds an M.F.A. in creative writing from Warren Wilson College and a Master's in Psychology from Roosevelt University. She lives in Syracuse where she practices psychotherapy.


Event begins at 12:30 P.M.

Macfarlane Auditorium, Deperno Hall
Event calendar listing >
Back ♦ Top of Page


---
Coming September 17, 2014:

John Lyon Paul - Gallery Talk
Artist
About the Artist:
Entirely self-taught, and the master of many materials, John Lyon Paul works in the solitude of a large studio he built at the end of a dead-end road in the hills above Ithaca. His work has been exhibited at the Arnot Art Museum, and in many juried and invitational gallery shows and is in private collections throughout the United States. In 2010 John was chosen as the Featured Artist of the "Conflict and Visual Culture Project" at the Solomon Asch Center, and in 2011 he was selected for the NYFA MARK professional artist program.



His first works were figurative sculptures, directly carved in wood or hammered in metal. Subsequently, his sculptures evolved into tools for centering, grounding, meditation, and healing. Among these works are his "Peace Tablets," a series of "Prayerwheels," and two, large, interactive sculptures, "Many Thousands Gone" and "Nagasaki Prayerwheel."

Equally adept in two dimensions, his paintings invite the viewer to enter and travel them. A journey through the 100 painting "Pilgrimage" series unfolds like a new visual language. Subsequent series ("Oracle", "Mirage", "Templates for Another Life") lead us to his "Meditation Shawls" and, most recently, his "Studies." Painted "in reverse" on the back of clear Mylar or glass, John says that these paintings "grow like crystals." The multi-textured results are extraordinarily fresh, immediate, and luminous.


Event begins at 12:30 P.M.

Library Concourse
Event calendar listing >


Back ♦ Top of Page


---
Coming September 24, 2014:

Alexi Zentner


Fiction writer

About the Author:

Alexi Zentner is the author of the novels The Lobster Kings and Touch. Touch has been published or is forthcoming in a dozen countries and ten languages, and The Lobster Kings will be published in at least six counties and five languages. Touch was shortlisted for The 2011 Governor General's Literary Award, The Center for Fiction's 2011 Flahery-Dunnan First Novel Prize, the 2012 VCU Cabell First Novelist Award, and the 2011 Amazon.ca First Novel Award, and longlisted for the 2011 Scotiabank Giller Prize, and the 2013 International IMPAC Dublin Literary Award. Alexi's fiction has appeared or is forthcoming in The Atlantic Monthly, Narrative Magazine, Tin House, Glimmer Train, The Southern Review, The Walrus, and many other publications. He is the winner of both the O. Henry Prize (jury favorite) and the NarrativePrize, and has been shortlisted for the Best American Short Stories and the Pushcart Prize. Alexi is an Assistant Professor at Binghamton University and a faculty member in the Sierra Nevada College low residency MFA program.


Event begins at 12:30 P.M.

Macfarlane Auditorium, Deperno Hall

Event calendar listing >
Back ♦ Top of Page


---
Coming October 1, 2014:
Jon West, Heldentenor
Sar-Shalom Strong, piano

Music

About the Artists:

Jon West, Heldentenor, was born in Dayton, Ohio, and studied at the Manhattan School of Music and at the Juilliard Opera Theatre. He sang rôles such as Tannhäuser, Siegfried in Siegfried and Götterdämmerung, Tristan, the Emperor in Die Frau ohne Schatten and Otello at the Munich Prinzregenten Theater, the Bavarian State Opera, the Deutsche Oper Berlin, the Vienna State Opera, the Rome Teatro dell'Opera, the Madrid Teatro Real, Covent Garden and the Chicago Lyric Opera, as well as at the New York Met, and appeared at the Salzburg Festival and the Festival de Musica de Canarias, in which he sang the male title-rôle in Samson et Dalila, in Tel Aviv and San Francisco, Canio in Pagliacci, and Florestan at La Fenice. He has worked with conductors including Claudio Abbado, Sir Colin Davis, James Levine, Lorin Maazel, Zubin Mehta, Simon Rattle and Seiji Ozawa. He has also been heard in Stuttgart as Canio and as Tristan.

Sar-Shalom Strong is well known to east coast audiences as both a soloist and a collaborative pianist. In a career spanning over 27 years, he has had the privilege of collaborating with international artists such as flutists Judith Mendenhall and Gary Shocker, trombonist Joseph Alessi, violinist
Sarah Crocker, singers Helen Boatwright, Peter Vandergraaf, and Sanford Sylvan, as well as multitudes of fine musicians who live and perform throughout upstate New York. Locally he performs with the Society for New Music, where he has been involved in premiere of many new works, and also appears regularly on programs of Civic Morning musicals, the Skaneateles Festival, A Little Summer Music, The Oasis Center of Syracuse, Hamilton Copllege, and Utica College. He has performed orchestral keyboard with virtually all the orchestras in the area, most notably with the Syracuse Symphony Orchestra, and is a founding member of both the Jewell Piano Trio and the Southwick Trio. Recorded performances with the Society for New Music on Innova Records and with soprano Janet Brown on Russetbrush Records have met with considerable acclaim.

Currently Lecturer in Piano and Coordinator of Staff Pianists for Hamilton College, where he has taught since 2001, and previously associated with Colgate and Syracuse Universities, Mr. Strong maintains a strong commitment to teaching and encouraging aspiring younger musicians: pianists, singers, instrumentalists, and composers. He is active as an adjudicator and vocal coach, and also has been the accompanist/music coach for West Genesee High School since 1997. In December 2012, he was selected to a panel of judges for the Humans in Space Youth Art and Music Competition sponsored by NASA.


Event begins at 12:30 P.M.
Library Concourse
Event calendar listing >
Back ♦ Top of Page


---
Coming October 8, 2014:
Todd Fleming Davis

Poet
About the Author: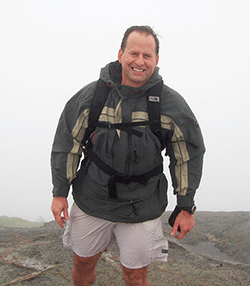 Todd Davis is the author of four books of poems, most recently In the Kingdom of the Ditch and The Least of These, both published by Michigan State University Press. He also edited Fast Break to Line Break: Poets on the Art of Basketball (Michigan State University Press, 2012) and Making Poems: Forty Poems with Commentary by the Poets (SUNY Press, 2010). The winner of the Gwendolyn Brooks Poetry Prize, Davis's poems have appeared in such noted magazines and journals as American Poetry Review, The North American Review, Iowa Review, Gettysburg Review, Shenandoah, and River Styx. He teaches environmental studies and creative writing at Penn State University's Altoona College.


Event begins at 12:30 P.M.
Macfarlane Auditorium, Deperno Hall

Event calendar listing >
Back ♦ Top of Page


---
Coming October 22, 2014
The Hamilton College Saxophone Ensemble

Music

About the Performers:


The Music Department at Hamilton College supports an active Chamber Ensemble program coordinated by Professor Heather Buchman. The saxophone Ensemble was established in 2006 and over the years has varied in size from a quartet to a nine member group. The ensemble prides itself on performing a wide variety of music, from Bach to the Beatles, and most of the selections have been arranged specifically for the group. In addition to appearances on campus, the Saxophone Ensemble has shared its music on the Clinton Village Green and at Utica's Tramontane open mic night. A performance schedule of Hamilton ensembles may be viewed at www.hamiltonpa.org/calendar/


Monk Rowe is the director of the Hamilton College Saxophone Ensemble.
He is also an instructor of saxophone and is the Joe Williams Director of the Fillius Jazz Archive. This oral history project is part of Hamilton's Burke Library Special Collections. Over 315 videotaped interviews have been gathered with jazz personalities from across the country. [www.hamilton.edu/jazzarchive]. Monk is an active performer on saxophone and piano and has arranged music for the Utica Symphony, the Fredonia Alumni Jazz Ensemble, the Silverwood Clarinet Choir and the Hamilton College Saxophone Ensemble.



Event begins at 12:30 P.M.

Library Concourse
Event calendar listing >
Back ♦ Top of Page


---
Coming October 29, 2014:

The Finger Lakes Guitar Quartet

Music
About the Performers:


The Finger Lakes Guitar Quartet presents exciting, eclectic programming spanning five centuries, including original arrangements, as well as works written for, and premiered by the FLGQ. The members of the Finger Lakes Guitar Quartet are four accomplished guitar soloists, Joel Brown, Brett Grigsby, Sten Isachsen, and Paul Quigley.

Joel Brown's actively eclectic performances as a solo guitarist and chamber musician have included appearances with the Chamber Music Society of Lincoln Center, the Festival of Contemporary Music at Tanglewood, the Saratoga Chamber Music Festival, the Caramoor Festival, and the Killington Festival. Brown has also performed on NBC's Today, CNN's Showbiz Today, on NPR, and on the BBC. In 2005, Brown's critically acclaimed Christmas Cedar and Spruce was released by Albany Records.

 Joel Brown is a Senior-Artist-in-Residence in classical guitar at Skidmore College in Saratoga Springs, New York and is Chair of the Skidmore Music Department.

A founding member of the Finger Lakes Guitar Quartet, Sten Isachsen has appeared as concerto soloist with the University at Albany Orchestra and the Ithaca College String Quartet. He performs regularly on steel string and electric guitars, as well as mandolin, providing support for artists like Country Music Hall of Famers, Charlie Louvin, The Haggar Twins and many Upstate New York musicians including Jim Gaudet and The Railroad Boys, MotherJudge, Bear Tracks, Harold Ford and the Cash Band and Michael Eck.

 Isachsen is owner of North Albany Studios, a rehearsal studio complex and recording facility. Isachsen is also engineer and producer at Bender Studios a recording facility in Delmar, NY.

Brett Grigsby has performed as both soloist and chamber musician giving audiences heartfelt performances over the past 15 years. Notable performances include solo concerts at the 92nd St Y, St. Patrick's Cathedral, an all Bach program at Steinway Hall, and at the esteemed concert series at St. Paul's Chapel in New York City. Brett is a dedicated instructor having held faculty positions at Lehigh University, The College of St. Elizabeth, and Kean University. Brett is currently on the faculty at Skidmore College.

Paul Quigley has performed with the Glens Falls Symphony,and as concerto soloist with the University Orchestra at SUNY Albany. Solo and Chamber music performances include, the College of Saint Rose Camerata, and at the Saratoga Arts Center Theatre, Troy Music Hall,The Riverside Church Christ Chapel series, Bowdoin College Summer Chamber Music Festival, Lang Concert Hall at Hunter College, The Spanish Institute, Shakespeare & Company, and the Oberwald Concert Series in Basel, Switzerland. He is currently on the faculty of Schenectady County Community College, The College of Saint Rose and SUNY Adirondack where he teaches classical and electric guitar.


Event begins at 12:30 P.M.

Macfarlane Auditorium, Deperno Hall
Event calendar listing >


Back ♦ Top of Page


---
Coming November 12, 2014:

Jennifer Pashley

Fiction writer


About the Author:
Jennifer Pashley is the author of two collections of stories, States (Lewis-Clark, 2007) and The Conjurer (Standing Stone, 2013). Her fiction, poems and essays have appeared widely in journals like Mississippi Review, PANK, SmokeLong Quarterly, Interim, and Salt Hill, and have been awarded the Red Hen Prize for fiction, The Mississippi Review Prize, and the Carve Magazine Esoteric Award for LGBT fiction. Her first novel, The Scamp, is forthcoming from Tin House Books in 2015.


Event begins at 12:30 P.M.

Macfarlane Auditorium, Deperno Hall
Event calendar listing >


Back ♦ Top of Page


---
Coming November 19, 2014:

Utica College Concert Choir

David Kolb, director
Alane Varga, accompanist


About the Performers:


Please join us for this special performance of the Utica College Choir, directed by David Kolb.


David Kolb is a graduate of Hamilton College with double concentrations in music and mathematics, has taught math at Mohawk Valley Community College, and directed choirs for the Utica Maennerchor and Stone Presbyterian Church in Clinton. He is currently the Director of Music for First Presbyterian Church in Rome. David is also a frequent performer in local theatrical productions and sings with the local music ensemble Above Standards, David was a featured soloist in the production of Gian Carlo Menotti's Amahl and the Night Visitors in Syracuse last December, and in the Masterworks Chorale's performance of Ralph Vaughan Williams Fanstasy on Christmas Carols performed at Hamilton College. David was one of the featured soloists in the December 3, 2013 Hamilton College and Community Masterworks Chorale's performance of Bach's Magnificat. After several years' hiatus, the Utica College Concert Choir was reconstituted in 2010 with David as its director.


Alane Varga, piano accompanist, began her career at Utica College in fall 1983, as a counselor in the Academic Support Services. She was cofounder with Dr. Della Ferguson of the Womyn's Resource Center at Utica College. In 2011, Alane was appointed Dean of Students at Utica College. She has been musically active as an accompanist in a range of venues, including community coffeehouses, musicals performed at Utica College reflecting her love of Broadway, and in the Professor Harry F. and Mary Ruth Jackson Utica College Lunch Hour Series.


Event begins at 12:30 P.M.

Library Concourse
Event calendar listing >


Back ♦ Top of Page


---
Coming December 3, 2014:

Utica College Concert Band

Michael J. DiMeo, director

About the Performers:

The Utica College Concert Band was founded by Louis Angelini in 1981. Frank Galime directed the band until his retirement. Currently the band is directed by Michael J. DiMeo, retired director of bands from New Hartford High School.

The band has a well balanced instrumentation and a membership which includes students, local music educators, as well as members of the Utica College staff and local community. The band, for students, can be taken as a liberal arts course for credit or just as an audit.

The Utica College Concert Band programs a wide range of music from the standard band literature that is both challenging and musically rewarding. They usually perform once per semester at the Professor Harry F. and Mary Ruth Jackson Lunch Hour Series. Other regular performances include an annual Concert for Veterans and a combined concert with MVCC Concert Band. The Band also performs programs for local events and at senior citizen communities such as the Masonic and Presbyterian Homes.


Event begins at 12:30 P.M.

Library Concourse
Event calendar listing >


Back ♦ Top of Page


---