Bachelor of Science Degree • School of Arts and Sciences

Program Details

Biology Major


Biology is the science of life and its processes. It includes study and research related to the structure, function, growth, origin, evolution, and distribution of living organisms. The major in biology offers a variety of career opportunities in at least five different areas: Medical (dentistry, medicine, optometry, pharmacy, podiatry, public health, chiropractic, veterinary medicine, physician's assistant, audiologist/speech therapist); Teaching (college, secondary, elementary, drug counselling); Research (academic, government, private), Environmental (forestry, wildlife management, park management, range management, pollution measurement and control); and Commercial (laboratory equipment and pharmaceutical sales, technical writing).
Most of these careers require training in addition to a major in biology. Those interested should investigate specific course requirements for entrance into professional or graduate school and discuss these options with their academic adviser. Students considering public school teaching as a career should refer to the programs in education -
click here for details
.
Total credit hours required for degree: 128
ACADEMIC REQUIREMENTS
(See also
General Education Core
)
Course
Credit Hours
Year Taken
Core
24-46
1,2,3,4
Major Course Requirements
(Some of the following may be used to satisfy college core requirements)


Essentials of Biology

Biology 211*
General Biology I
4
1
Biology 212
General Biology II
4
1
Biology 231
Research Methods in Biology I
3
1
Biology 232
Research Methods in Biology II
3
2
14
* must earn C or better to enter subsequent courses

Foundations of Biology

(five courses)
Cellular/Molecular Biology (select one course)
Biology 321
Genetics
4
2 or 3
Biology 327
Cell Biology
4
2 or 3
Population Biology (select one course)
Biology 323
Principles of Ecology
4
2, 3 or 4
Biology 329
Evolution
3
2, 3 or 4
Structural/Functional Biology (select one course)
Biology 322
Developmental Biology
4
2, 3 or 4
Biology 324
Animal Physiology
4
2, 3 or 4
Organismal Biology (BIO 325 Botany and one other course)
Biology 325
Botany
4
2 or 3
and (select one course)
Biology 432
Principles of Microbiology
4
3 or 4
Biology 433
Parasitology
4
3 or 4
Biology 434
Mycology
4
3 or 4
Biology 436
Biology of Vertebrates
4
3 or 4
Biology 437
Biology of Invertebrates
4
3 or 4
19-20

Upper Level Biology Electives

Biology Elective Courses
at the 300, 400, or 500 level*
11
3 or 4
11

Integrated Biological Experience (select one course)

Biology 450
Senior Research in Biology
3
4
Biology 470
Practicum in Biology
3
4
Biology 495
Senior Seminar
3
4
3
Total Biology Coursework: 47-48
Major-Related Course Requirements*
Chemistry 211 and Chemistry 212
8
1 or 2
Physics 151 and Physics 152or Physics 261 and Physics 262
8
2 or 3
Mathematics 112, Psychology/Sociology 211, or Mathematics 201
3
1, 2, or 3
19
Total Hours Required in Major: 66-67

* Students should check to determine if these courses require prerequisites. Students may select any 300-400 level elective courses that are not being used to satisfy other degree requirements. 500 level courses require permission of instructor.

Electives
The student must complete sufficient elective courses to earn at least the minimum credits hours for this degree and at least 64 credits of the 128 required must be in the liberal arts and sciences.

Areas of Emphasis
Biology majors and their advisers can tailor the curriculum to help prepare them for their future goals, for example:


Pre-professional and Academic:


This emphasis should satisfy the needs of students intending to apply to professional or graduate schools and should include Organic Chemistry (CHE 332 and 332), Calculus (MAT 201), and two semesters of a foreign language. MAT 201 may be required by some professional or graduate schools.

Educational:


This concentration encourages those students intending to be secondary or elementary school teachers to meet state certification requirements in areas in addition to biology (i.e. earth science and general science). Students take education and science courses in areas where certification is desired.

General:


This emphasis adds flexibility through sampling courses outside the field of biology. Students take six hours of non-biological science courses.
Biology Major Honors: In order to be considered for Honors in Biology, the following requirements must be satisfied.
The student must have Biology GPA of at least 3.4 in all Biology courses taken at Utica College and an overall GPA of at least 3.0.
The student must take BIO 450 in their junior or senior year and present their findings at the Annual Undergraduate Research Conference.
The Biology Faculty will evaluate the student's credentials and then select those who shall receive Honors. The student's participation in departmental activities will also be considered.
If a student wishes to be considered, they must apply by 14 April of their senior year.
For those students selected, the transcript will read Bachelor of Science with Honors in Biology.
Admissions Events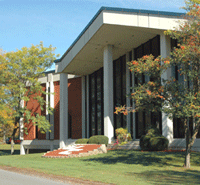 JOIN US ON CAMPUS:

SATURDAY INFO SESSIONS
Q&A with staff followed by a campus tour.
OPEN HOUSE
Learn more about programs, financial aid, student life, more.
Upcoming events >

"Without any doubt in my mind, one of the only reasons that I was able to complete my education and successfully enter my current position as a Ph.D. candidate in genetics was due to the constant support and guidance that I received at UC."
"Without any doubt in my mind, one of the only reasons that I was able to complete my education and successfully enter my current position as a Ph.D. candidate in genetics was due to the constant support and guidance that I received at UC."
Susan A. Zullo '92
National Center for Human Genome Research
Share
|