Major in Animal Behavior
Bachelor of Science Degree • School of Arts and Sciences

Program Details
Animal Behavior Major


The Animal Behavior major is an integrative and interdisciplinary program of study examining the behavior of animals from a biological and psychological perspective. The major seeks to provide students with a background in scientific knowledge to examine the evolutionary, ecological, genetic, neurological, and cognitive mechanisms that influence the behavior of animals, as well as ways in which behavior is modified by learning, training, and changes in the natural environment. Additionally, students will gain an understanding of techniques for studying behavior through our research-intensive program that includes laboratory and field experiences, training in research methods, and conducting independent research projects. Students will be introduced to zoo research, animal care and husbandry, and animal training through our partnership with the Utica Zoo.
The major in Animal Behavior will provide a foundation of courses and experiences for students interested in pursuing graduate training for research, high school or college/university teaching, conservation, or veterinary medicine. Additionally, this major will provide training for those seeking careers requiring training at the bachelor's level, such as research assistants at universities, businesses, or government institutions; animal care specialists or managers for research facilities; animal handlers/trainers for zoos or as a business; zoo keeping and aquarium husbandry; veterinary assistants; and museum or zoo educators. Other careers include applied animal behavior in industry and animal control officers.
Total credit hours required for degree: 128
ACADEMIC REQUIREMENTS
(See also
General Education Core
)
Course
Credit Hours
Year Taken
Core
34-55
1,2,3,4
Major Course Requirements
Foundations for Understanding Animal Behavior
Biology 211*
General Biology I
4
1
Biology 212
General Biology II
4
1
Psychology 101
Introduction to Psychology
3
1
Psychology 202
Advanced Introduction to Psychology
3
1 or 2
14
Research Methods in Animal Behavior
Biology 231
Research Methods in Biology I
3
1
Biology 232
Research Methods in Biology II
3
2
Psychology 211
Statistics in the Behavioral Sciences
3
1
9
Essentials of Animal Behavior
Biology 321
Genetics
4
2 or 3
Biology 329
Evolution
3
2 or 3
Biology 338
Animal Behavior with laboratory
3,1
2 or 3
Biology 428
Zoo Animal Behavior, Training, and Husbandry

4

3 or 4
Psychology 351
Learning and Behavior
4
2,3 or 4
19
Electives (15 cr. – at least 6 cr. in BIO/Animal Behavior and 6 cr. in PSY)
ANB 420
Short Course in Animal Behavior
1
3 or 4
Biology 323
Ecology
4
3 or 4
Biology 322
Developmental Biology
4
3 or 4
Biology 324
Animal Physiology
4
3 or 4
Biology 327
Cell Biology
4
3 or 4
Biology 343
Neuroscience
3
3 or 4
Biology 362
Endocrinology
3
3 or 4
Biology 436
Biology of Vertebrates
4
3 or 4
Biology 437
Biology of Invertebrates
4
3 or 4
Psychology 312
Research Methods in Psychology
4
2 or 3
Psychology 343
Sensation and Perception
4
3 or 4
Psychology 347
Basic Psychobiology
3
3 or 4
Psychology 352
Motivation and Emotion
3
3 or 4
Psychology 354
Cognitive Psychology
4
3 or 4
Psychology 405
Evolutionary Psychology
3
3 or 4
Psychology 453
Theories of Learning
3
3 or 4
15
Capstone Experience (select one)
ANB 450
Senior Research
3
4
ANB 495
Senior Seminar
3
4
3
Major-Related Course Requirements
Chemistry 211
General Chemistry I
4
1 or 2
Chemistry 212
General Chemistry II
4
1 or 2
8
Total Hours Required in Major: 68
* Students are required to earn a grade of C or better in BIO211 before enrolling in any subsequent course with an Animal Behavior or Biology prefix that is required for the major.
Note: Students who plan on graduate study may need to complete CHE331-CHE332, PHY151-152 or PHY261-262, and MAT201.
Electives
The student must complete sufficient elective courses to earn at least the minimum credit hours for this degree and at least 64 of the 128 hours required must be in the liberal arts and sciences.
Honors in Animal Behavior:
In order to be considered for Honors in Animal Behavior, the following requirements must be satisfied.
The student must have a GPA of at least 3.4 in all Biology, Psychology, and Animal Behavior courses taken at Utica College and an overall GPA of at least 3.0.
The student must take ANB450 and present their findings at a professional conference or at the Annual Undergraduate Research Conference (or similar venue).
The Psychology and Biology faculty will evaluate the student's credentials and then select those who shall receive Honors. The student's participation in departmental activities will also be considered.
For those students selected, the transcript will read: Bachelor of Science with Honors in Animal Behavior.
Back
---
Admissions Events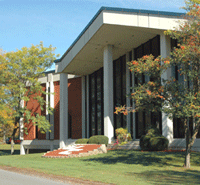 JOIN US ON CAMPUS:

EXPERIENCE UC

Meet students and faculty, tour campus, and join us for lunch.
Learn more / register


SATURDAY INFO SESSIONS
Q&A with staff followed by a campus tour.
Learn more / register
OPEN HOUSE
Learn more about programs, financial aid, student life, more.
Learn more / register
Upcoming events >